If you ask me to name a color combo containing the most popular color for bedrooms this year, I may spill out hundreds of words.
But I assume you, like me, want something that reminds you of the galaxy, ocean, and many things with a hint of outside but not soft greenish:
Navy and yellow bedroom is my new favorite room interior design. Both of these two colors add moods and vibes to a boring room. And they are such a good couple for balance in your bedroom.
No time for waiting. Let's check how to recreate a navy and yellow bedroom through our detailed guides.
We'll Talk About:
How to Decide the Proportion of Navy and Yellow?
Ideas About Painting Navy and Yellow Color In Bedroom
Stunning Ideas About Navy and Yellow Bedroom Decor
First, let's talk about the color palettes.
---
Which Should You Choose for the Dominate Color In Bedroom?
As I said, both navy blue and yellow are emotional colors. So, who will lead the bedroom's color tone will base on your ambiance preference.
However, bedrooms are places to relax your mind; navy blue is an ideal color for soothe and calmness. Yellow colors are sunny and lively but potentially too stimulating for a bedroom.
Therefore, you'll want to limit the use of yellow in your bedroom. But if you stick to a warm tone bedroom, mustard yellow will be your final choice for the bedroom.
On the other hand, you can still use neutral colors like white, gray, and cream to fulfill your room, and they are perfect base tones to match the emotional colors.
Here I'll show you what different navy and yellow color schemes feel like so you can find out which suit your bedroom best.
#1. Shades of Navy Give a Hint of Soothe and Peace
Navy blue color is a cool color to calm people's minds. Choose your blue with a deeper adds more peace and calmness in the bedroom.
But such a deep, cold tone needs something to lighten it up. Use your bedroom's yellow decor sparingly to accent whatever you want.
#2. Mustard Yellow Will Warm Up Your Bedroom
Let more warm colors in. Use mustard yellow and other yellow tones to make your room cozier. Don't forget to use neutral color and navy in the shade to make the room look less disturbing.
Light yellow might be dazzling if you want some light and soft color. Here's a better choice: stick to the warm tone and neutral color. Cream white is a considerable option.
#3. Neutral In Gives More Softness
If you don't want any emotional thing to bother you but still want to enrich the color in your bedroom. Try to use more neutral colors to soften the vibe.
Choose pure neutral tones such as white, gray, or black with no underlying hues to fill in the room's vast layers.
Thus your bedroom can accommodate pop-up colors while keeping the neutral look. But you will need some inspiration about how to play with blue and yellow.
---
Ideas About Painting Navy and Yellow Color In Bedroom
Now the color palette is clinched—time for paint and brushing. Let's check some creative ways to paint navy and yellow in your bedroom.
Make An Accent Wall
Luckily, you only need a few of these two colors in your bedroom in these colors for a significant change. An accent wall is enough to add vibes to your bedroom.
For the first attempt, you can go with a navy accent wall. The navy color is closer to the neutral and thus looks well with other neutral or light colors.
A Small Area Also Works Well
And you don't need to choose the whole side of the wall as the accent. In the above image, only about 1/3 of the wall is painted a deep blue but looks terrific.
Ensure that the accent wall has the dominant color in your bedroom. In this room, blue and gray take most of the scheme.
So the navy accent wall enhances the calm feeling, and yellow colors only appear on several decors.
Use It as A Canvas
What did I mention before? Navy and yellow is the combo that reminds you and me of space and stars. So why not create a romantic space accent wall with these two colors?
It's time to show your art talent when incorporating navy and yellow into the same canvas. And stars in the sky are not the pattern that fits all walls. Moons, a planet, and you can just let more colors in to create your universe!
Of Course, You Can Kick the Neutral Out
Want a cozy bedroom but still love the navy and yellow palette? Try hiding a navy blue accent wall in the corner or behind your bed. You will find it brings a unique depth to shade instead of dull white.
Try Blue On the Floor
If you love the white and clean wall paint but want to try this color palette, here's a way to satisfy you.
Paint the floor a deep navy blue color instead. The white bedroom makes you feel like you are living in a coastal area and enjoying a daily breeze.
The yellow decor in this room offsets the coldness of the blue and makes the space vibrant.
Try Color Blocking
Pairing two or more colors parallel on the wall is a good option for mixing and matching. You can try to put the navy and yellow on the wall for a bold vibe.
Half in Half
Have you ever seen a beautiful landscape with a natural unique dividing line like the lake and the sky or the sunset above the ocean?
Try to paint your bedroom wall in two colors and half in half to reach a similar effect. Whatever color you choose, remember to balance the brightness.
You can easily do that by pairing a bright color with a deep one. Like white with navy or yellow with navy.
A Corner Block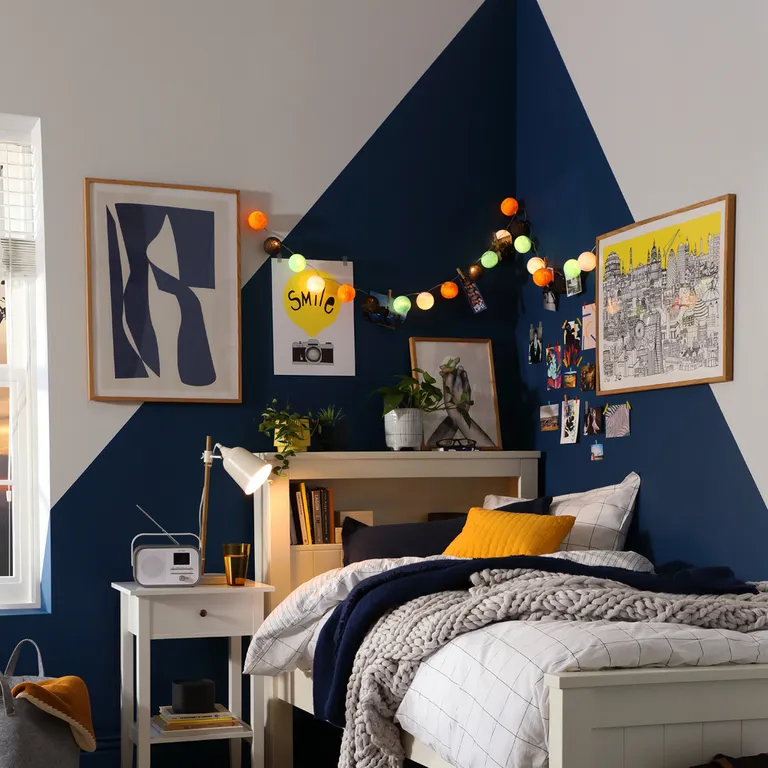 Want a secret corner of your own? Use color for a statement! Go with bold color and divide the area that you want to make an accent.
This is the most personalized way to use navy and yellow in your bedroom. No rules, no principles. But I want to share with you my plans:
A yellow color UFO that found my secret cabinet and decided to take it back to research!
---
Decor For Navy and Yellow Bedroom
Besides adding color by painting, there is a more convenient and budget-friendly way: using navy or yellow bedroom decor to bring vivid colors to your bedroom.
Use Beddings If You Are Unsure
Since beddings are essential for any bedroom, I'll talk about them first.
Bedding allows you to introduce new colors to the bedroom while you can change it whenever you want.
Also, try not to unify the color of all beddings. You can have a bunch of yellow throw pillows in different shades while enjoying a deep sleek navy color bedspread.
What You Can Try:
Try Reversible Beddings to Enjoy Both Tones In Once
Linen Fabric Will Add Extra Softness to Your Bedroom
Deeper Color Give a Luxury Feeling; Especially with A Gold Tone Yellow
Navy and Yellow Curtains Are Budget Choices
If you have a limited budget, try replacing the curtains in your bedroom with a navy and yellow color palette.
Likewise, navy or yellow curtains will add a soft touch to your bedroom. I'll recommend you choose the curtains' thickness based on your room's vibe.
Choose light curtains to add an airy sense to a bright and lively bedroom. On the other hand, use thick curtains if your room has a mature vibe.
Rugs Can Add Coziness in Whatever Color
If you want to make the room look more comfortable, put a navy or yellow rug on the bedroom floor.
Unlike curtains or beddings, rugs are more understated and aim to finish your floors.
If your floor doesn't look matchy-matchy with the navy or yellow decor you put in your bedroom, you can use rugs to match them well.
---
Even More Ideas About Navy and Yellow Bedroom & Decor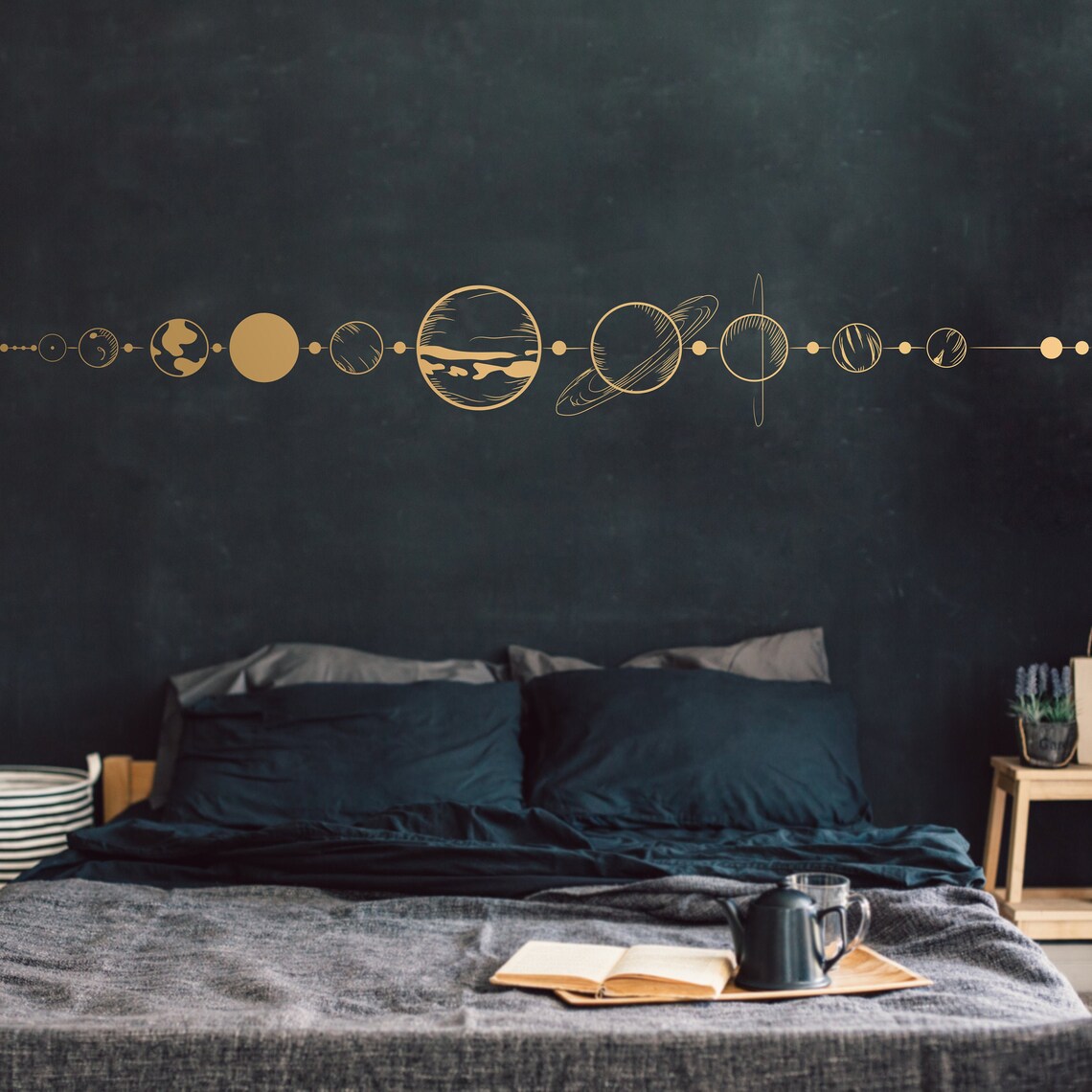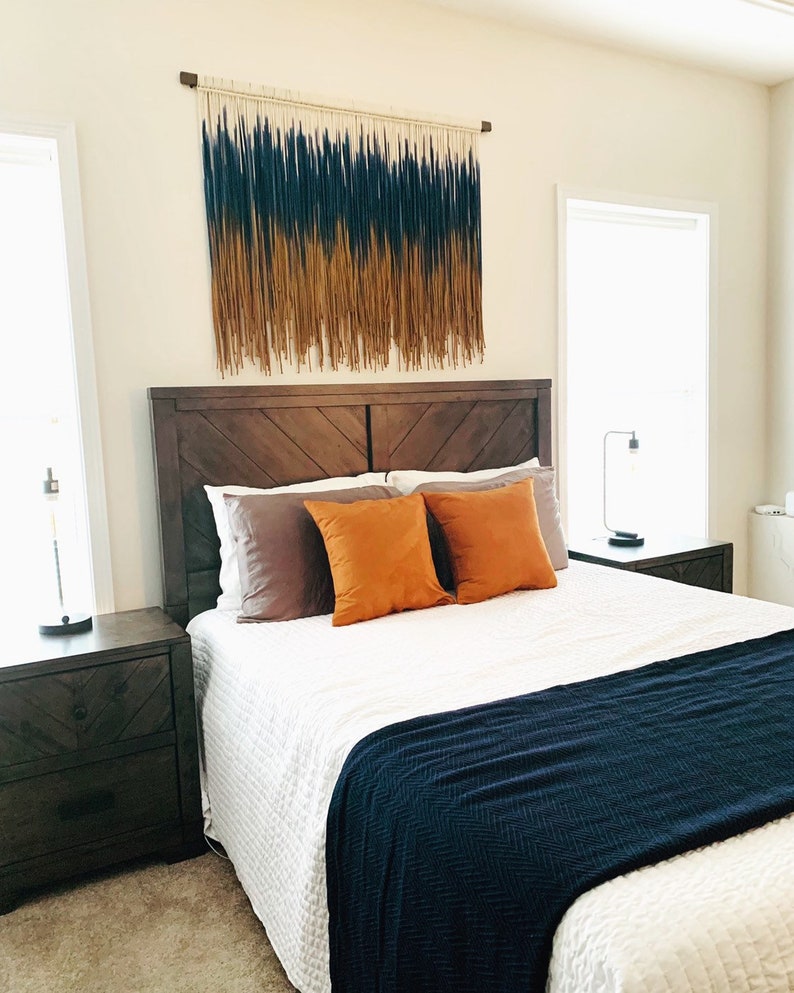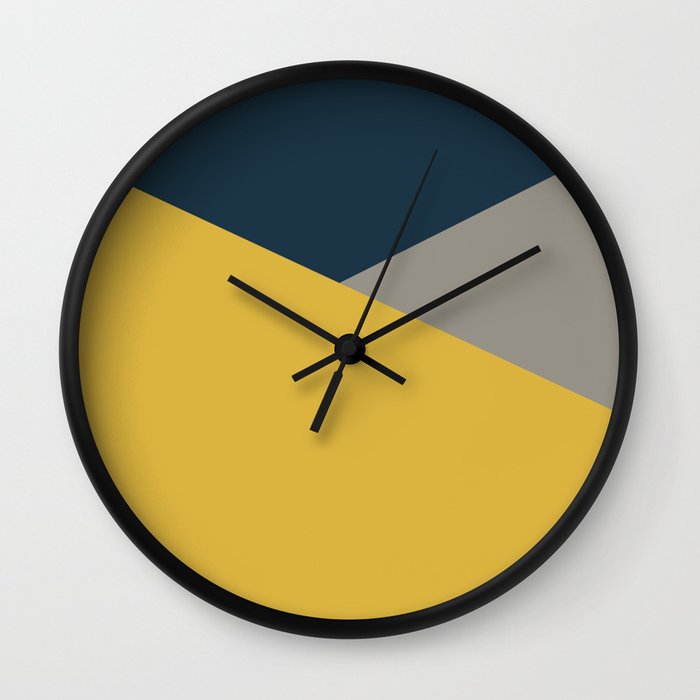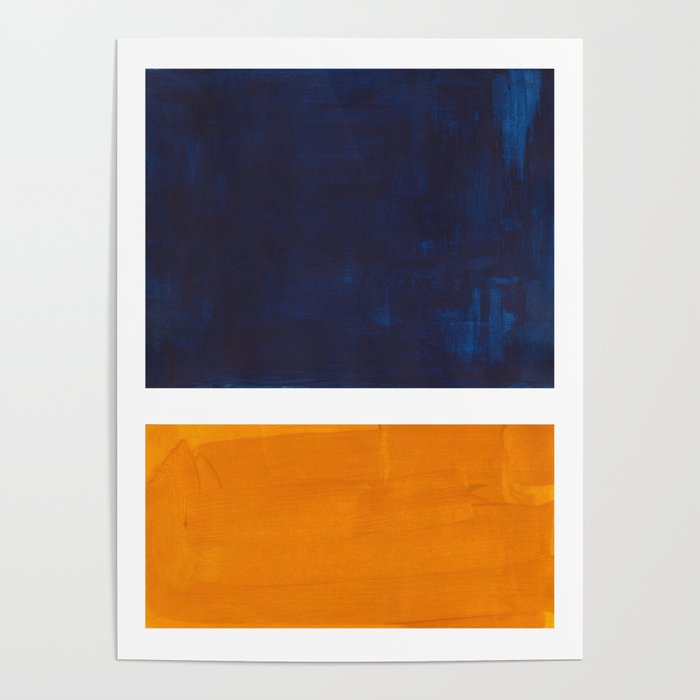 ---
That's The End!
Navy and yellow bedrooms are perfect for anyone who wants to try different vibes other than a neutrally painted room in white, cream, or any other no underlying hues.
I love to share different bedrooms that can inspire you for beautiful interiors. Follow us and get more ideas!
Check These Posts for More Inspirations