Brown, white, black, and what can you try if you are tired of a common color TV stand? I have been thinking about this question recently, and I got inspiration from a calm and soothing vibe color:
Navy blue, a color associated with vast ocean and space, can easily evoke all kinds of emotions. And a navy blue TV stand is versatile and matches well with any living room.
But when it comes to TV stand color, the white wooden ones pop up in your mind. You may also want to try a blue navy stand but struggle to make a big deal by selecting the suitable one.
That's why I am here. Today, we're covering the moody blue TV stand and its variation, the finishing touch design, and a whole lot more.
First, let me answer the questions in your mind before.
---
#Q1 Is A Navy Blue TV Stand A Good Idea for My Living Room?
For decades of evolving interior furnishing, navy blue has proved timeless and trendy. Relaxed, elegant, and peaceful, you can create a comfy space with a piece of navy blue.
Therefore, you can enjoy the show after a stressful day while your mood gets relaxed with a navy blue TV stand.
Besides the emotion regulation function, a navy blue TV stand looks stunning in a modern, vintage, and rustic living room.
Such a versatile color TV stand will get well with different wall colors and won't look out of style.
#Q2 Will a Navy Blue TV Stand Be Awkward for My Neutral Color Living Room?
Not at all. Truthfully, Navy blue is a kind of neutral color and plays well with other neutral colors.
According to the color complementary theory, the navy blue TV stand will pair wonderfully with different shades and tints of greens, oranges, reds, yellows, and grays.
You can bring the navy blue color to your living room for unique vibes without cooling down the cozy atmosphere.
Speaking of tints and shades, the navy blue paint used on the TV stand is not always the same color as the image below:
Instead, the navy blue color's final effect varies from different retailers and materials.
Therefore, it's time to enrich your choices by introducing different color variations of navy blue TV stands.
---
– Different Navy Blue TV Stand Variations –
The navy blue palette gets its tint and shade like other color palettes.
Here are several navy blue TV stand variations you can choose from by your preference.
Bright Navy Blue TV Stand
Like raindrops, bright navy blue refreshes my eyes and mood.
Matching Wall Color: Cream White, Light Gray, Yellow.
Pairs Well with: Modern, Boho, Cottage Style.
Bright navy blue tends to be lighter and brighter than the standard navy blue color. Less gray and shade mix give this tone the feeling of energetic and airy.
Therefore, a bright navy blue TV stand gives an airy and fresh feeling, especially if you have neutral colors like cream or white tones in your room.
Besides, the lighter navy blue TV stand will pop up in a yellow-toned living room, enhancing the vibrant touch.
So a colorful boho-style living room is the best place for your bright navy blue TV stand. (You can check this article to learn how to arrange a boho TV stand.)
---
Perian Indigo TV Stand
Romantic, elegance, and inspires my mind.
Matching Wall Color: Gentle Green, Cream White, Mid-Gray.
Pairs Well with: Elegant, Vintage Style
Persian indigo or purple navy, this variation of navy blue appears to be a mix of purple and indigo. The purple undertone makes navy blue more gentle and passionate.
Unlike the original navy blue color's ocean hint, purple navy gives the feeling of a romantic flower field. You can use it to decorate the cream-white living room or go bold with a gentle green color.
In a word, the purple navy TV cabinet is the optimal decoration for anyone who loves elegant touch.
---
Dark Cyan Navy Blue TV Stand
Like the crystal lake, I enjoyed this mysterious and luxurious feeling of blue.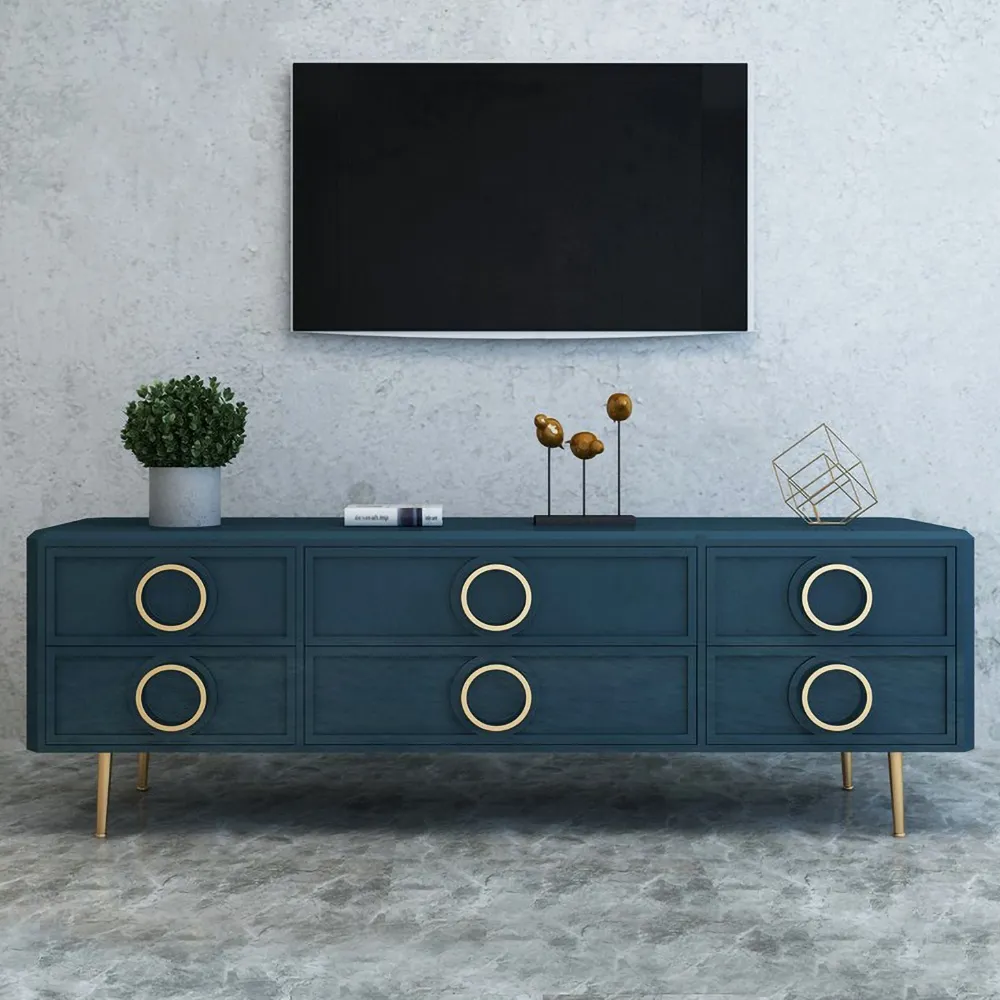 Matching Wall Color: Light Gray, Mist Gray, Orange, Marble Gray
Pairs well with: Luxury, Modern Style
What is the most luxurious thing in your mind? Gold, jewels? Unlike the passion of purple and the calmness of navy, cyan navy has a similar nobility to a teal color.
Hence a deep cyan blue TV stand brings a luxurious feeling to your living room. You can choose one with golden hardware for a better effect.
Regarding wall color combinations, thanks to the teal undertones, the dark green tones of the living room turned out to be optional with the cyan navy blue TV stand.
Textured accent walls like marble or mottled in neutral gray colors also work well with this cyan variation.
Textured wallpaper like marble or stone, bricks are kicked out.
Deep Navy Blue TV Stand
The deep dark blue calms me down. A deep lake hint has great power to bring peace for yoru soul.
Matching Wall Color: Neutral color Walls in Cold Tone
Pairs Well with: Modern, Farmhouse, Coastal
If navy blue is light and a bit pop-up for your living room, opt for a deep navy blue TV color instead. This deep shade of navy blue will remind your mind of the night sky.
Neutral color as gray, white, and a bit cold tone TV walls are still compatible. And you can pair it well with large dark color furniture like a deep blue couch or cabinet.
Plus, the deep navy blue TV cabinet is perfect for coastal style decor:
The dark blue color with blackish undertone adds deep ocean vibes, which enhances the cold tone of the neutral coastal style living room.
Gray Navy Blue TV Stand
Many people don't believe in the powerful versatlity of navy blue; but I think gray navy blue will prove it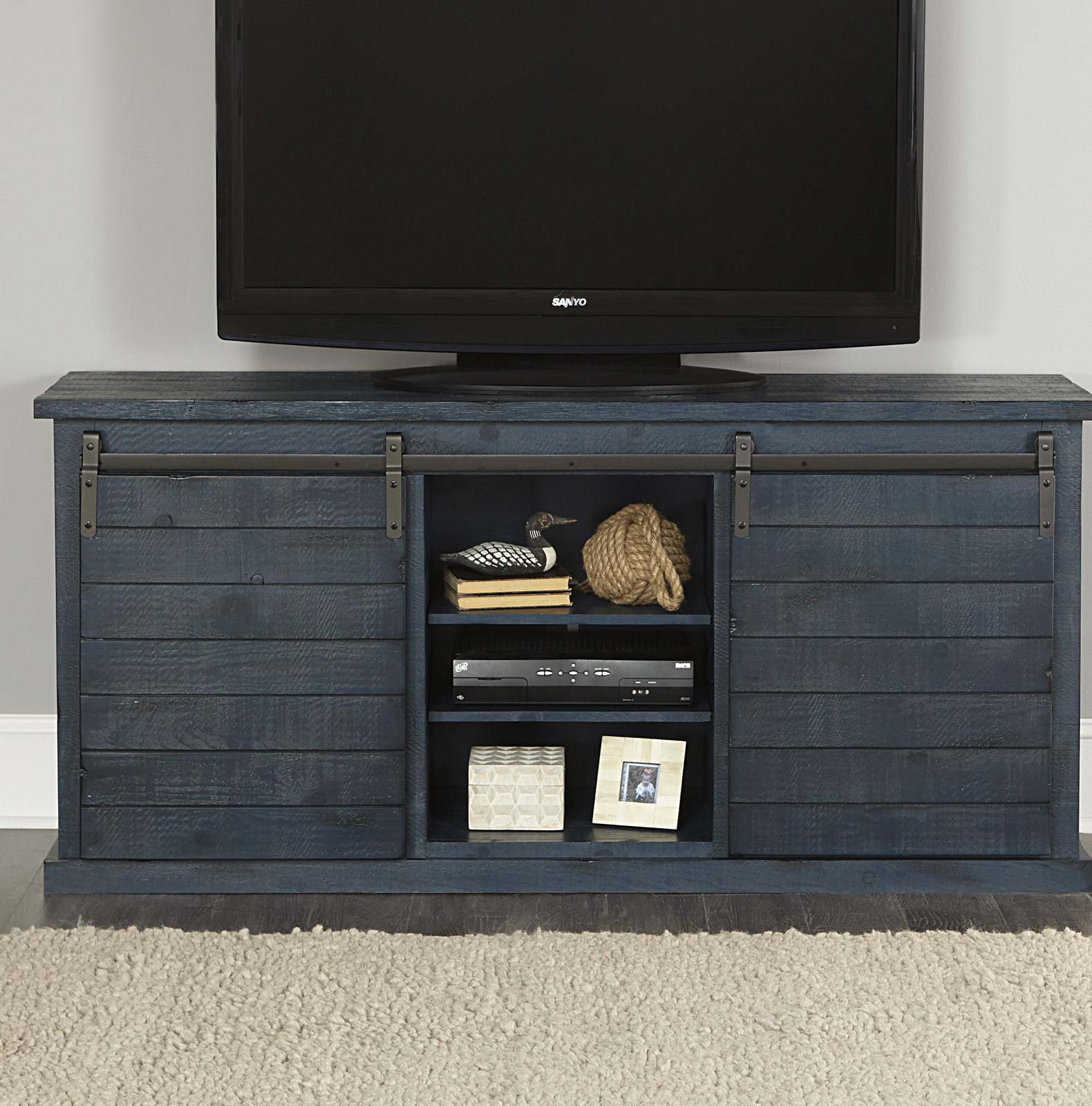 Matching Wall Color: Gray, White
Pairs Well with: Modern Style
Gray is the most neutral color and is widely used in modern living room interiors. If you're worried that navy blue will fail to fit your living room color palette, the gray navy blue will.
The gray navy blue TV stand satisfies anyone who wants to experiment with different tones of neutral TV stands: the mid-grey undertone allows it to blend in any living room.
Hick tip: a grayish color or pure white color wall is the best match for deep navy blue TV stands.
---
– Style Trend –
– The Finishing Touch on Navy Blue TV Stand Design –

Besides colors, the design is another critical point for TV stand selection.
It's time to check the must-pick designs for navy blue TV cabinets after running through their variant cousins.
Discard Normal Fire Color, Choose Navy Blue TV Stand with Blue Fire Flame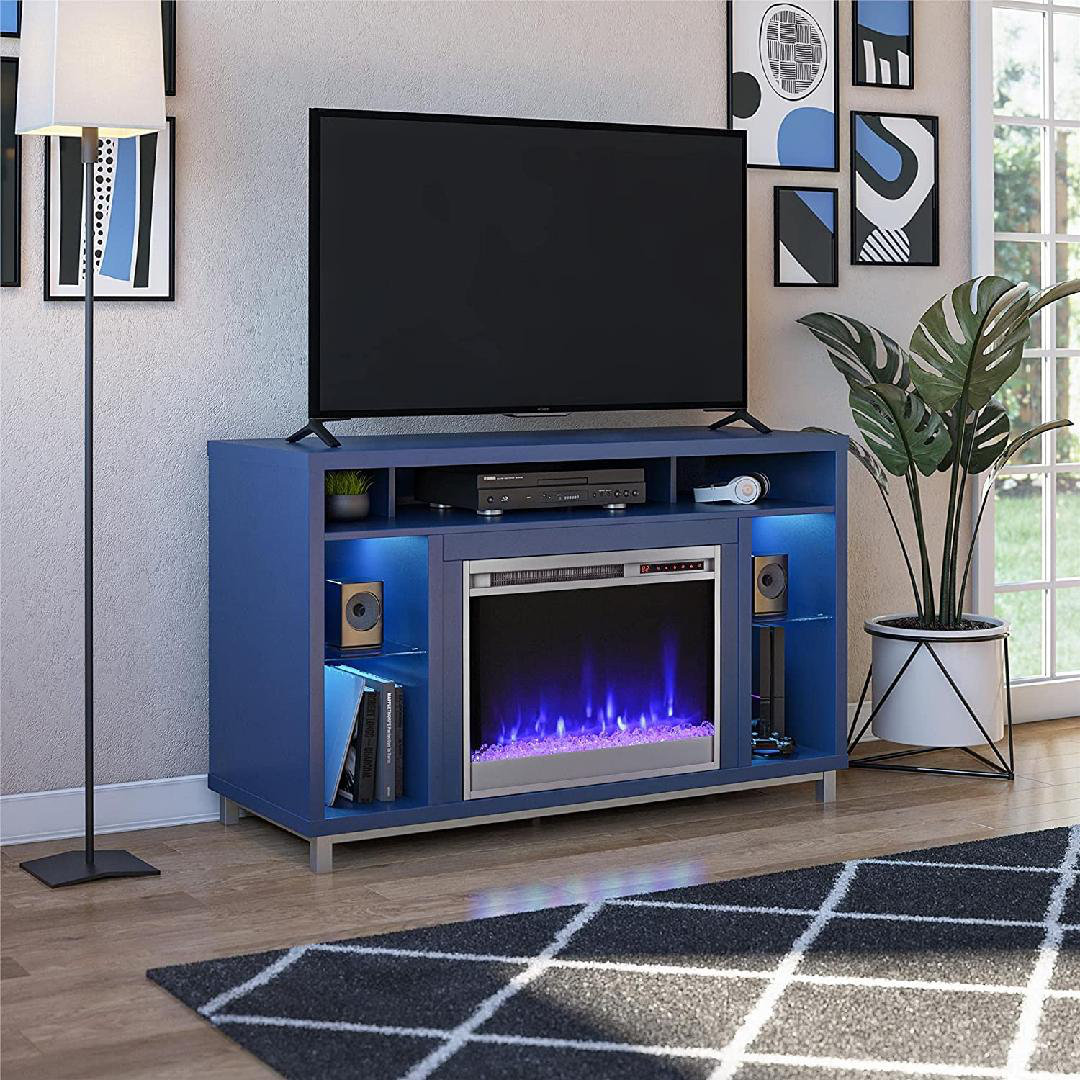 Want a TV stand with an electric fireplace but worried that the color of the warm flame wouldn't match the navy blue?
The cool purple-blue flame will help you out!
If you have a modern style living room with grayish neutral color, navy blue TV stands with cold flame mode will match the wall's color well.
Gold Elements on Navy Blue TV Stand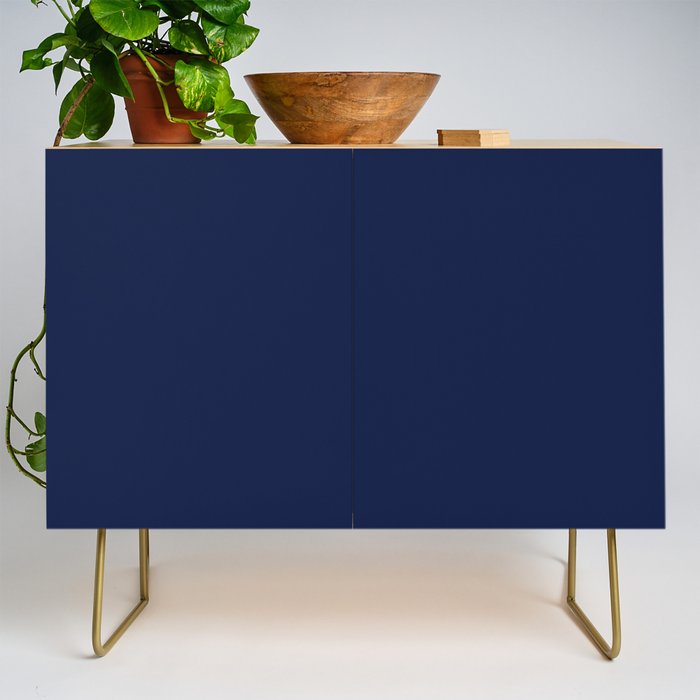 Gold is the best choice to add an extra color element to the navy blue TV stand. A deep tone like navy blue makes the gold hardware more elegant.
For a more luxurious feeling, cyan navy blue is an excellent choice if you like a navy blue TV stand with gold hardware.
As I mentioned, the crystal-like undertone adds a high-end vibe to the gold elements.
---
Final Words
And there you have it, my friend! With the knowledge of selecting navy blue TV stand colors and designs, I believe you can find the most suitable one for your living room.
More Ideas for TV Stand to Explore: