Are you heading to an important meeting but find you can't look at the effect of your outfit? Is it difficult to check yourself with a small wall mirror?
You need an oversized floor mirror! With it, you can confirm you did everything right before dating and conference.
But how to choose a right oversized floor mirror for both functional and decorative purposes?
Here talks a lot to consider when deciding on an oversized floor mirror:
First Decides on What Oversized Mirror Dimension Perfectly Supports You
A right oversized floor mirror meets your standards for outfit checking, at the same time, matches your decoration.
If you are focusing more on dressing purposes, a floor mirror with 55 inches or 140 cm is well for your regular use.
If you lean it against walls, the floor mirror should be at least 70 inches or 180 cm, roughly 3/4 up the wall.
For tall men or if you have a ceiling over 9 feet, an 80 inch or 203 cm floor mirror would be rather better because it makes the room look larger and brighter.
Regarding matching your furniture, its height should not be less than 6 inches from that of the household next to the floor mirror.
By knowing what size floor mirror you actually need, it is time to find your favorites in terms of shapes and functions!
Then Make a Decision on Which One Meshes Your Preferences
Here introduces the oversized floor mirror from the specific uses in rooms.
1. Tired of Sharp Edge? Look for an Oversized Arched Floor Mirror.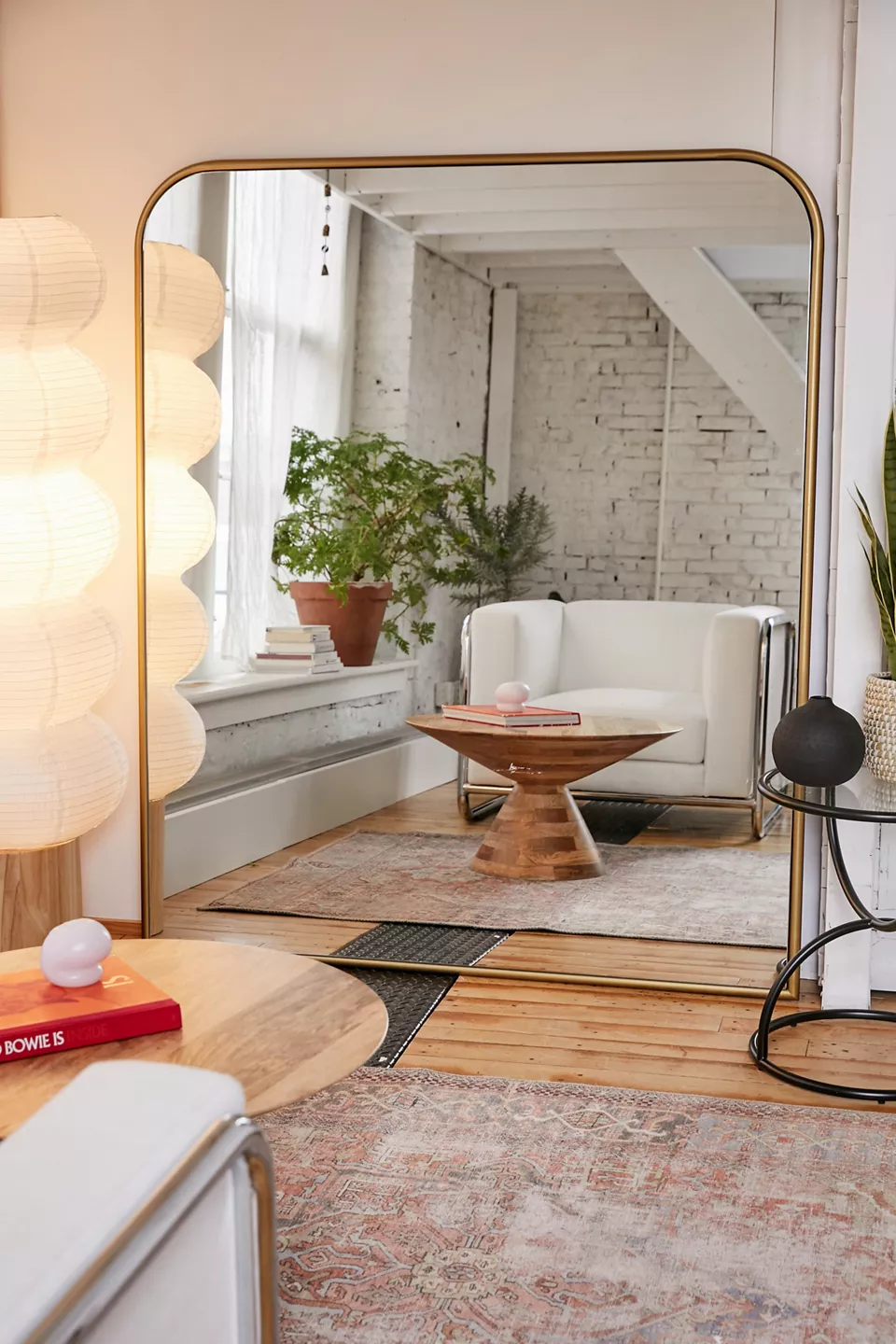 An oversized arched floor mirror often features a soft curve on the top, loved by most people who want to add a taste to living rooms or optimize your sense of space.
If you have an arched hobby, door, window or sloped ceiling, an arched standing mirror is an ideal decoration to coordinate because it mimics their shape, adding a pleasing does of symmetry to the whole room and making the entire room more artistic.
2. Want More Industrial Elements? Consider the Beveled Floor Mirror.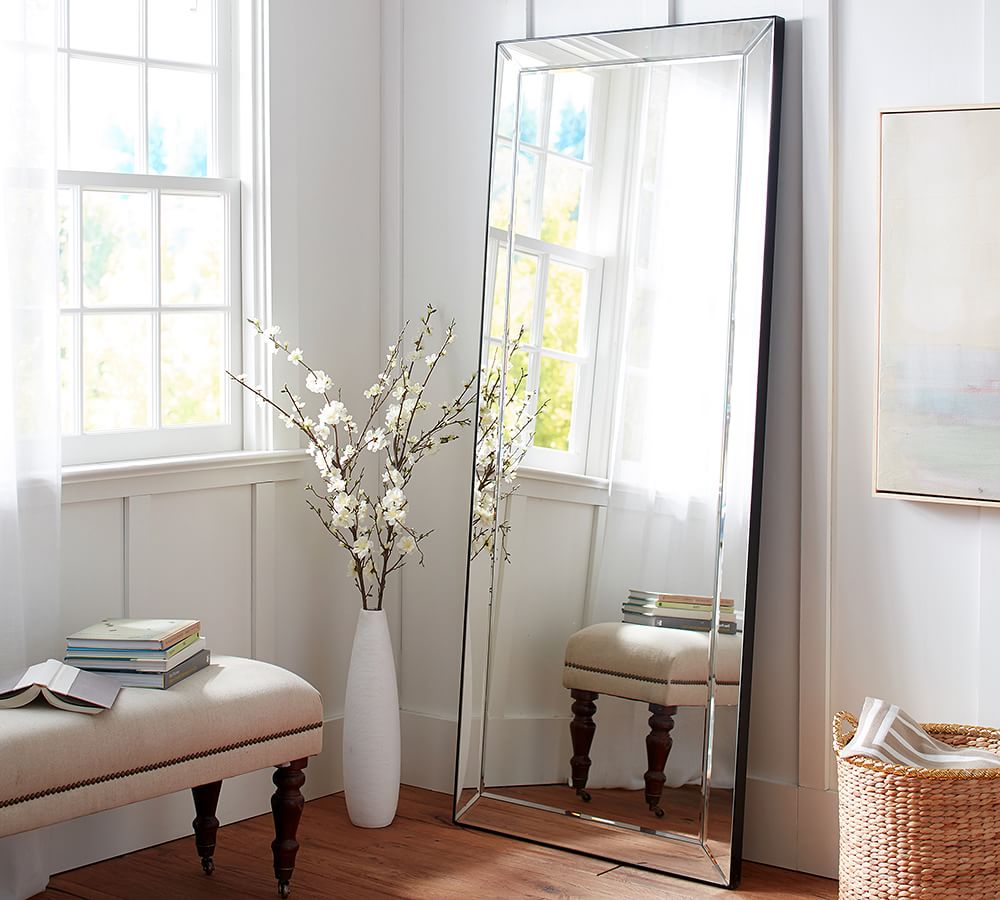 If you are looking for a unique but unobtrusive decoration for your living room, a beveled floor mirror brings a deep impression to your guests.
The oversized beveled floor mirror features edges at a specific angle to make an illusion that it seems there is a frame around it. The edge embellishes and highlights the frame, giving a subtle look and exclusive sense.
If you are a family with naughty children or vigorous Huskie, the oversized beveled floor mirror must be your necessities.
The beveled edge guarantees their safety when the mirror falls into pieces. Since the edge is processed in polishing and grinding which eliminates the imperfections formed.
3. Create a Focal Point? Why Not Go for an Oversized Round Mirror!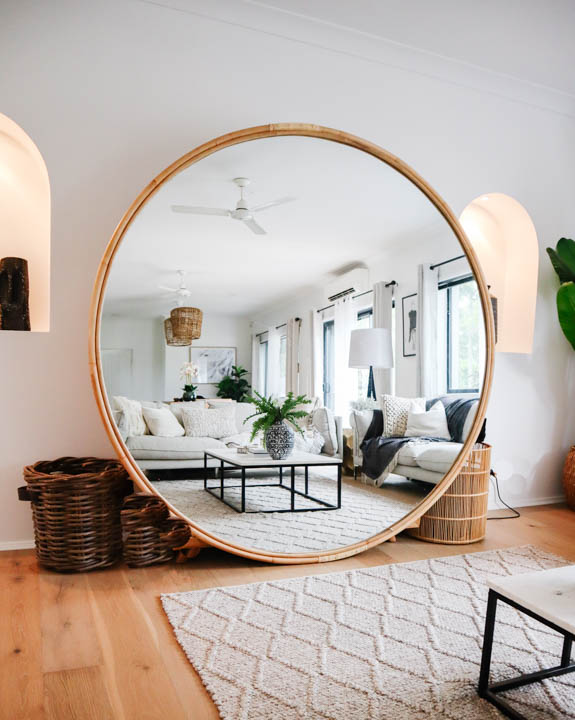 Versatile and appealing, you can't go wrong with the oversized round floor mirror.
If you want to balance the visual variety from the square or rectangular furniture, an oversized round floor mirror is what you are searching for.
The softness round shape grab the attention and eliminates the harder and colder line from the furnishings.
If you have a small living room, in reality, several wall paintings may not be the first decoration to choose from.
Replace them with an oversized floor mirror! Except for stunning decorative purposes, it also increases the depth of your small space, make your room appear larger.
Not only that, oversized round mirror also acts as a focal point and won't steal the elegance of the partial furniture design and the overall architectural design.
So, if you have special ceilings (aside from the square or rectangular ones), position the round floor mirror strategically and it will draw attention to your other eye-catching home design.
4. Pursue a Timeless Elegance? Try an Oversized Frameless Floor Mirror!
Mirrors with a specific frame often match a particular interior design. When you renovate the room to an opposite one, the framed mirror looks awkard in the new makeover.
With a frameless oversized mirror, you won't suffer from the embarrassment any longer.
It always matches any theme or style of decoration, and even better, it never goes out of style.
The frameless standing mirror is stylish and sleek in finish, creating a simple and clean line.
If you just want to emphasize the simplicity, the oversized floor mirror is a great addition!
A plus bonus the reflective surface of the frameless mirrors is larger than that of frame ones at the same size. Compared with its same size framed counterparts, the non-frame mirror is more likely to use in a relatively small room and dark rooms.
5. Have a Dark Closet? Enjoy the Glow That An LED Lighted Oversized Floor Mirror Offers.
If you need additional light in your walk in closet (wanna reasonably layout a small 4×4 walk in closet? Check here), an oversized floor mirror with light is a simple and direct way to realize it.
Think about your closet room light is weak, there is full of shadow when you stand in front of a regular dressing mirror and can't clear your OOTD and makeup. How annoying it is!
With a lighted oversized floor mirror, for one aspect, it adds more brightness which allows you to clearly check yourself.
What makes it a great choice is that it offers a fantastic light source, helping set the mood for your closet room.
For another, the broader and larger mirror can reflect more light from natural light and artificial lights, making your closet look bigger and brighter.
Say goodbye to a dim and dark closet with the lighted oversized floor mirrors!
Have a prototype of the decision on your mirror? Choosing the right color and material oversized mirror that blends your room style also matters.
If you,
Aim for Balance When Ornating a Room with Oversized Floor Mirror?
Follow the strategies below to get an optimum match for your interior design:
1. Neutral Colors Are the First Choice for Modern Rooms.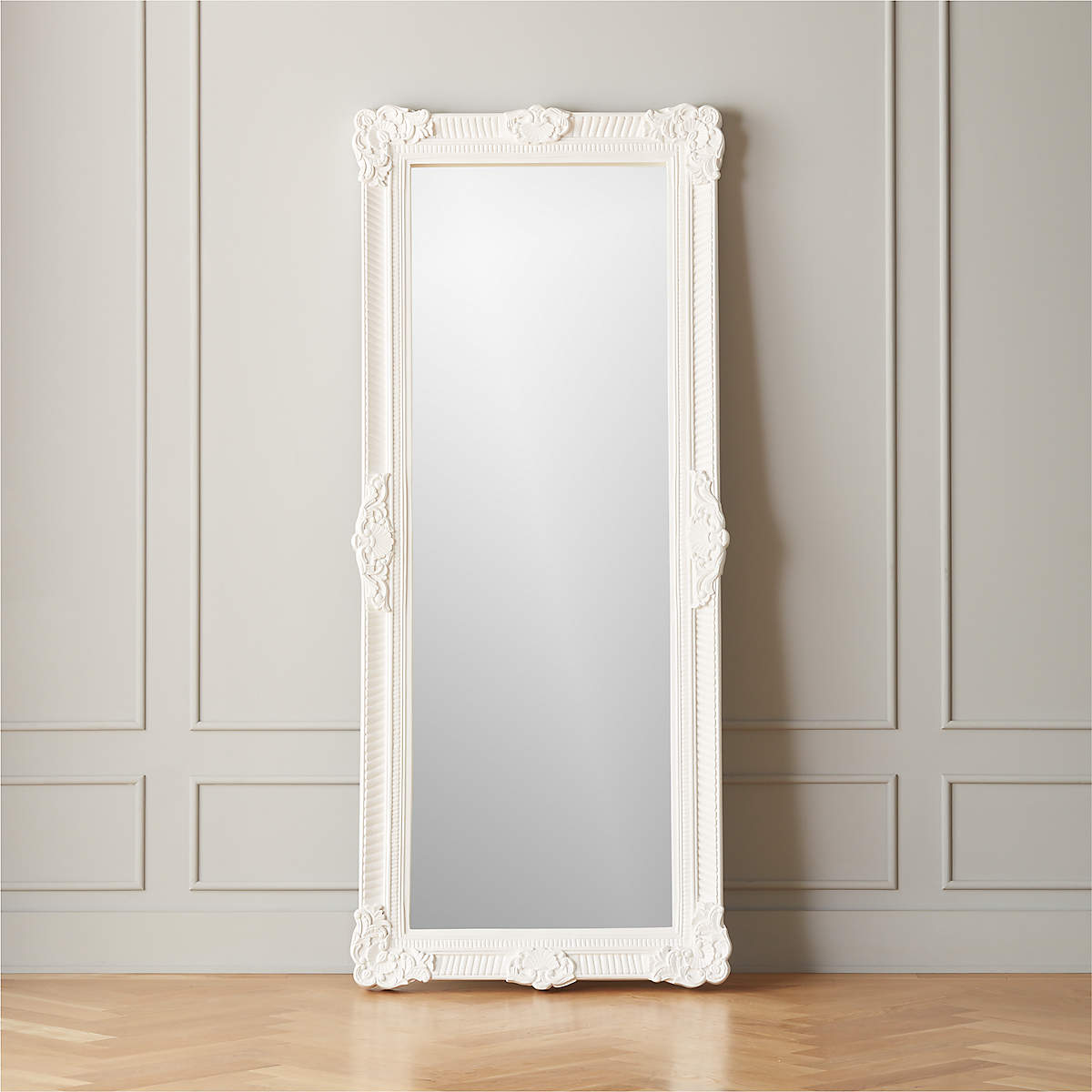 Neutral colors are a timeless classic for any room decor, especially in modern interior. White and silver framed oversized floor mirrors feel your room more open and spacious.
If you want it to blend your rich modern style, white ornate-framed mirror in an oversize would be the top option for your living rooms, entryway and and entryway. The artistic sculpture adds an elegant and luxurious feel.
2. Coordinate Vintage Room with Oversized Gold Brass Floor Mirror.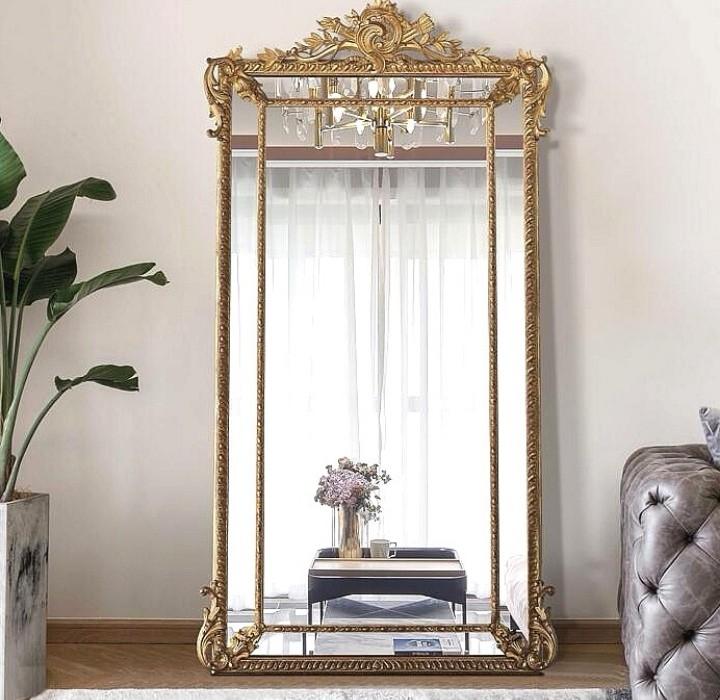 Brass finish decorations are popular since Mid-century. The golden hue improves warmth and futuristic aesthetic to the home interior.
A brass oversized floor mirror is often in matte texture to make itself be a color variation to your fittings.
If you prepare to add glamorous element, the charming and manifest oversized floor mirror should come to your life!
3. Go Black Framed Mirror If You Have an Industrial Interior Design.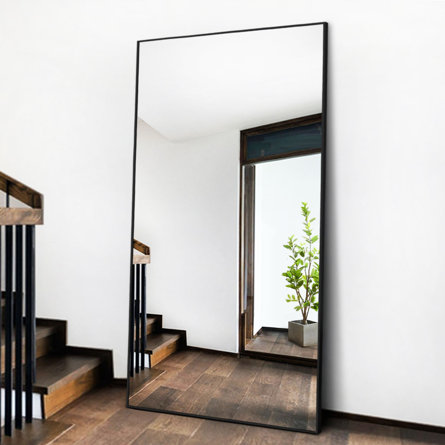 It is known industrial inspiration showcase an appreciation of raw materials and clean metal lines.
The black palette representative routes your room to be more sleeky, cool and keep itself neat constantly.
In addition, if you are picky, an oversized floor mirror with black frame will benefit you a lot, as the finish won't show your fingertips when you touch it.
4. Wood Frame Adds a Casual Accent to Rustic Interior.
Rustic home calls for warmth and comfort. Ranging from woven upholstery and hardwood decoration, it shows up a room full of simplistic natural elements.
If you have a rustic interior and want to get a mirror to have a match, wood is essential.
An oversized floor mirror embraced textures keeps a chic touch to give the rustic room an inviting atmosphere.
Wrapped it Up
An elaborating chosed oversize standing mirror is a functional and decorative piece for your dressing room, bedroom, living room, entryway and even guest rooms.
If you want to get the right fit, remember to consider these questions first:
What is the size of your room and furniture? Can the mirror size match them in dimension?
What is your purpose? Is framed oversized mirror or frameless mirror more suitable for your house? Do you need extra vanity light?
Do you have to blend the oversized floor mirror with your interior decor?
After these questions, you must know what is your best suited mirror!
---
If you want to get extra closet or cabinet design? Find them below: