Trying to find a relaxing and personalized style for your bedroom? The Bohemian style is perfect for you!
A boho bedroom is perfect since it's all about being relaxed and carefree. Moreover, the style is very versatile and allows you to use any decor or wall paint colors.
However, deciding how to finish your boho bedroom color palette can be hard without spending a fortune.
You might be tempted to choose a safe choice for the basic color like all white or cream and white, but why not try something new and fun?
Choose sage green as the green in your boho bedroom! Sage green is the perfect color for this style because it has a natural, calming quality that will help you relax and de-stress after a long day.
And nothing says Bohemian like a touch of natural green!
Still in hesitation? Here I'll prove that sage green is the best color for a boho bedroom and show you how to make a sage green boho bedroom in several ways.
---
Why Sage Green Is The Perfect Green Color for Boho Bedroom?
Generally, sage green is natural, making it perfect for a boho bedroom. Here are why sage green color is your first choice for a boho bedroom with a fresh look.
They Have A Lot of Common Points
Sage green and boho bedrooms have a lot of common points. First, they are both all about relaxation and comfort.
Sage green is a soft natural color with a green and gray shade. Hence you can feel your mind relax and refreshed when you see it. It's perfect for a bedroom since it doesn't stimulate your mind like other bright colors.
Meanwhile, a boho bedroom should be personalized and reflect the individual's personality, which means you can use any stuff you want as long as it doesn't break the harmony.
This will make your bedroom a perfect private space that makes you feel comfortable.
On the other hand, both sage green and bohemian style has a natural vibe. Rattan, wood, and wicker, such organic factors, are frequently used in the boho-style decor.
Don't forget, sage green is also named from plants. Thus it is the perfect color to enhance the natural feeling of a boho bedroom.
Sage Green Adds a Fresh Look to the Base Tone of Boho Bedroom
For the most trending modern boho bedroom, though white and cream are still popular choices for a base tone, they might be too ordinary.
It's time to let the boho bedroom be more creative and vibrant with some new colors. And sage green can be your best choice to achieve that.
Not only will sage green give you a modern feeling as a neutral color, but you'll also find it's so easy to combine with other colors from the boho style.
If you want to go for some wood-textured boho decor in your bedroom, sage green matches well with these earthy tones like brown or tan.
And you can even mix and match different shades of sage green to create a unique look that's all your own.
---
How to Incorporate Sage Green Into Your Bedroom?
Since we have perfectly proved that sage green is the best color for a boho bedroom, how can you achieve the sage green look in your bedroom?
Here are some ideas for you to start with:
Brush Your Walls
Sage green is a perfect muted color to work as the first layer in your boho bedroom. It is the perfect shade of green to relax and de-stress in.
The color has a natural calming effect that will help you get a good night's sleep. And who couldn't use a little more relaxation in their lives?
Sage green walls also pair well with the bohemian style. By incorporating sage green into your bedroom walls, you can add a touch of nature that will perfectly reflect your personality.
And I'm sure it will be the perfect place to relax and escape life's everyday stress.
Tips: you can try to accessorize with different shades of green to add depth and dimension.
Set a Sage Green Accent Wall with Gallery
Here is another way to make the sage green blend in your room's walls: A gallery wall is one of the popular interior designs for boho bedrooms.
Since a gallery wall is "a collection of art or photographs displayed together on a single wall."
It can be a perfect way to show off your experience, preference, and stories.
And applying to the sage green walls will give you more options for the photo frames.
You can try to hang some white frames on a sage green wall for an elegant style. Accordingly, you can use frames in different wood tones for a natural look.
Use Sage Green Beddings
Now let's move our sight to another essential element in your bedroom: the bedding. In a boho bedroom, beddings play a key role in helping to create a sense of relaxation.
Bed sheets with a high thread count will feel softer and more relaxing while opting for natural materials like linen. And the sage green color will help keep things feeling light and airy.
Sage green bedding in a boho bedroom will give you that cozy and comfortable feeling that you are looking for. Moreover, sage green bedding gives a relaxing look that hits the perfect balance of natural and bohemian.
The key to finishing boho-style bedding is in the accessories.
Use natural materials such as linen for added comfort and texture. Then, pile on the pillows and throws in different textures and shades of green.
And so there you have it!
Infuse It Into Patterns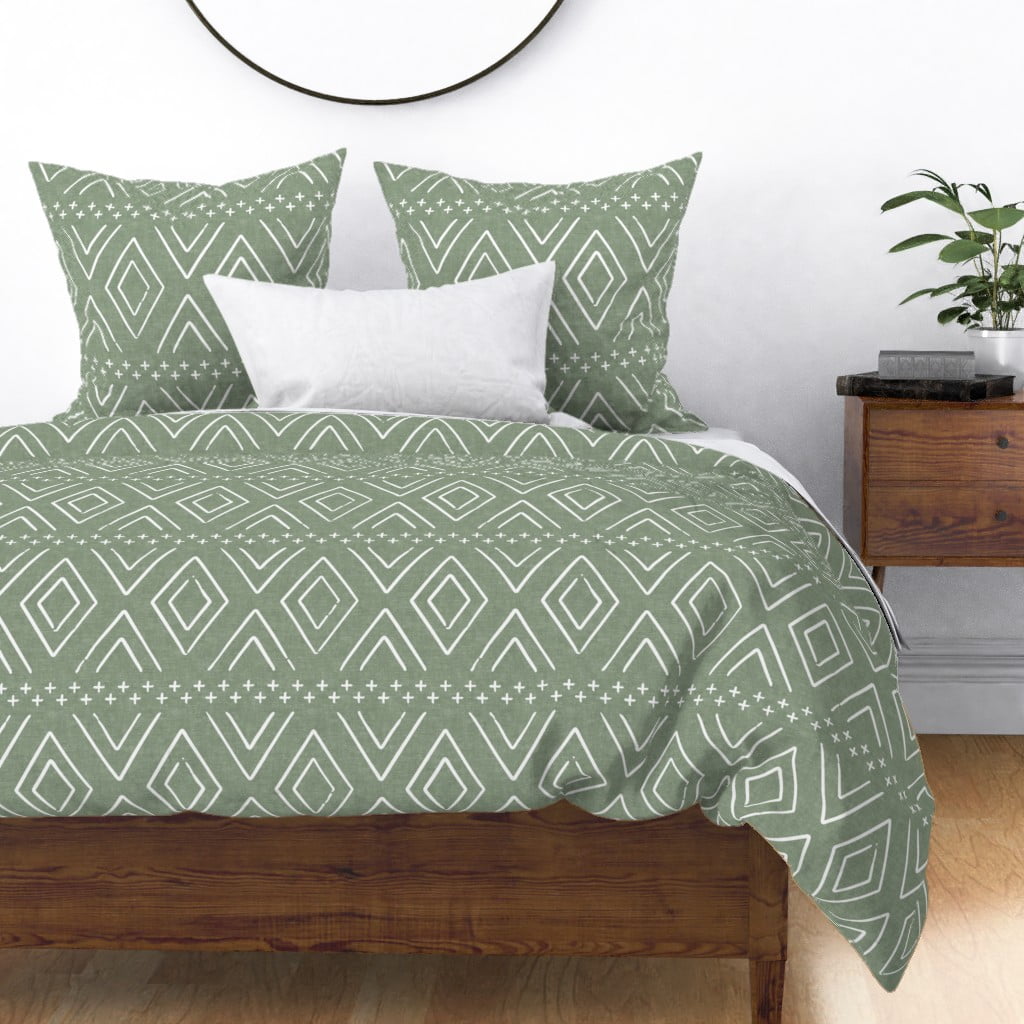 Patterns and textures are important elements of a boho bedroom. Creating layers and layers, mixing and matching are what you can get fun with boho style.
Therefore, you have plenty of chances to use a sage green color in your boho bedroom with patterns, like the wallpaper or a piece of wall art.
It can be a marriage of bright patterns or a cozy combination of neutral textiles. Furtherly, the boho style boasts layers of fabrics.
You can use sage green color in cushy blankets thrown over a ladder leaning up against the wall or the bed. Or you can match different colors with sage green patterned cushions.
Bring In Bohemian Pieces of Furniture/Decor
If you have on a budget or don't want to use a large area of sage green for the first time, enter sage green boho furniture.
Born from eclectic spirit and culture, boho-style trendy furniture is equal parts eclectic, vintage, and mixed with pieces made from materials such as rattan or wood.
And sage green will match with wood well, even be blended with them. You can enjoy a sage green wood cabinet or pair a sage green cabinet with a wood nightstand as well.
Plus, sage green ushers in a feeling of calm and relaxation: perfect for creating an oasis in your bedroom with plants. Hence try to place your lively plants into sage green planters for a pop color of life.
---
See How Other People Do It: A Realistic Boho Bedroom Case
We have seen enough tips and principles for creating a sage green boho bedroom, so we need a realistic sage green boho bedroom case to get inspired.
A Chic Sage Green Boho Bedroom from @this1870house
If you love being surrounded by natural tones and fabrics, this boho-chic bedroom, painted with soft sage green, is definitely for you.
As someone who appreciates a well-done boho-chic style bedroom, I can say that this room is a perfect mix of natural textures and colors.
If you're looking for inspiration for your own sage green boho bedroom, go for the bedding design first:
You can see the wood headboard and earthy color pillows match well with the sage green bed sheets.
This room has a peaceful and relaxing feel, from the soft sage green paint to the earthy tones in the decor and furniture.
I love how every decor item has been chosen with care, and the overall effect is natural and full of life.
Sage Green Color On: Walls, Beddings
Boho Decor to Use: Rattan Lampshade and planters, plants, wood headboard, cabinets, and nightstand
What Impresses Me Most: Perfect mix and match bedding design
– More Details About This Room –
---
More Ideas About Sage Green Boho Bedroom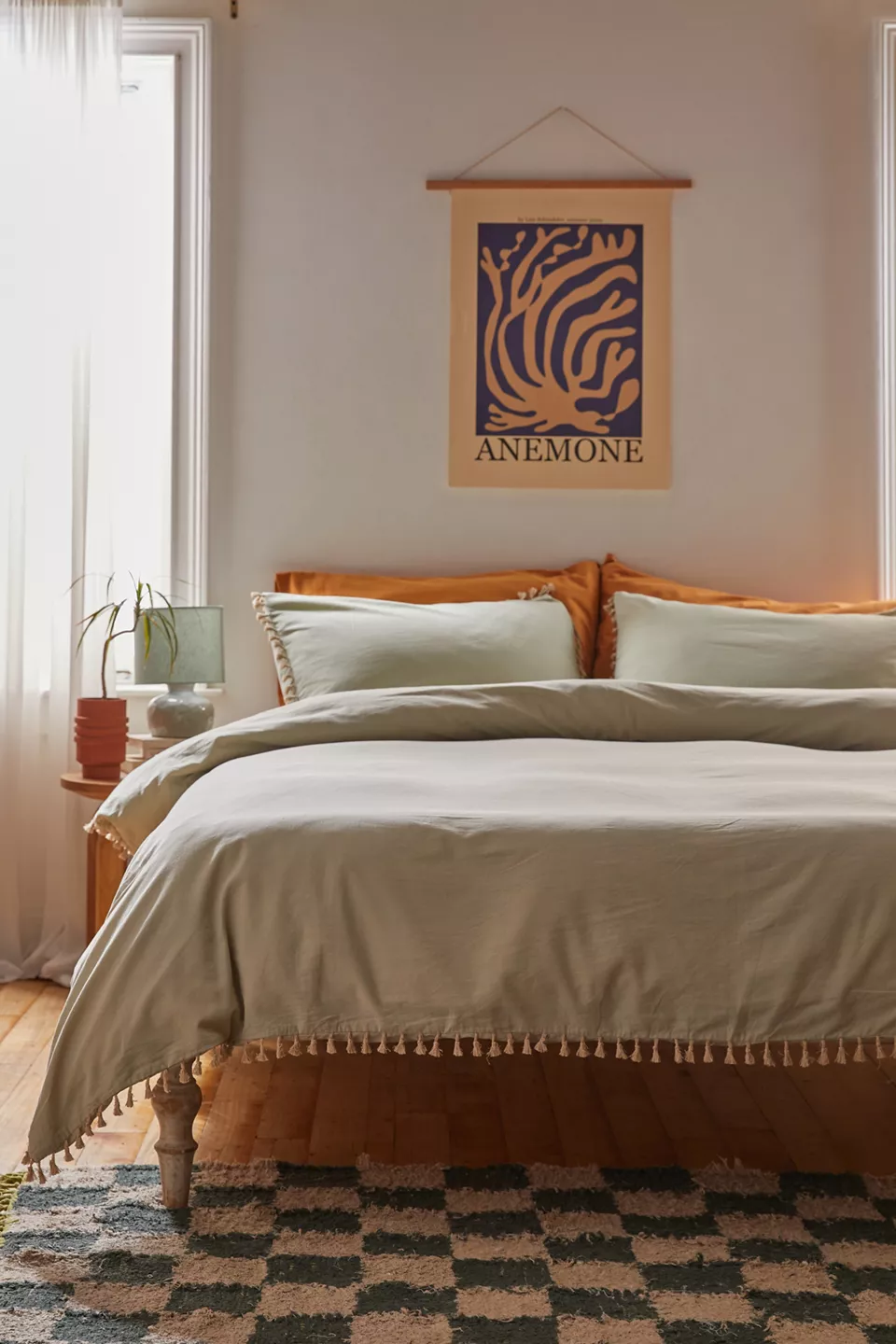 ---
Well, This Is the End
If you're looking for a soothing, calming color to paint your bedroom, sage green should be at the top of your list.
This versatile hue can create both a natural and modern vibe in your boho bedroom, depending on how you accessorize.
With just our tips and realistic cases, you can easily transform your boho bedroom into a relaxing oasis with this soft shade of green.
Keep these ideas in mind when creating your own sage green boho bedroom!
Read more about sage green and boho style inspirations from the following posts…