Still working from the bed, sofa or kitchen table due to the limited space?
Want some privacy and be far from kids' or pets' disturbance when you are working?
If you are those who have a small guest bedroom, why not utilize it for a workplace at home?
Turning your small guest bedroom into an office combo is no challenge any more.
Here are some small guest bedroom office combo ideas you can copy directly and principles to make the space double functional.
Top 37 Small Guest Bedroom Office Combo Ideas
How to make use of the small guest room to a bedroom office combo? Check the following ideas to maximize your guest bedroom office.
Murphy Bed Ideas
Murphy beds are space-saving options for a multi-purpose room.
If you enjoy working from home and dream about a decent workspace, fitting your guest bedroom with a murphy bed is a wise decision!
Murphy beds take up little space. To get much floor space during working, you can pull it down out of the wall at night and fold it up in the morning or whatever time you don't use it.
You can customize the bed size in accordance with your room size.
Daybed Ideas
Daybed, with a small size, is greatly used in a tiny guest bedroom (Daybeds are single beds that are suitable for one person).
When you put a daybed in your small guest room, there will leave a relatively wide area for an office table.
If you intend to take a nap during the intervals of working, putting a daybed in your guest bedroom office is a great idea to satisfy your needs.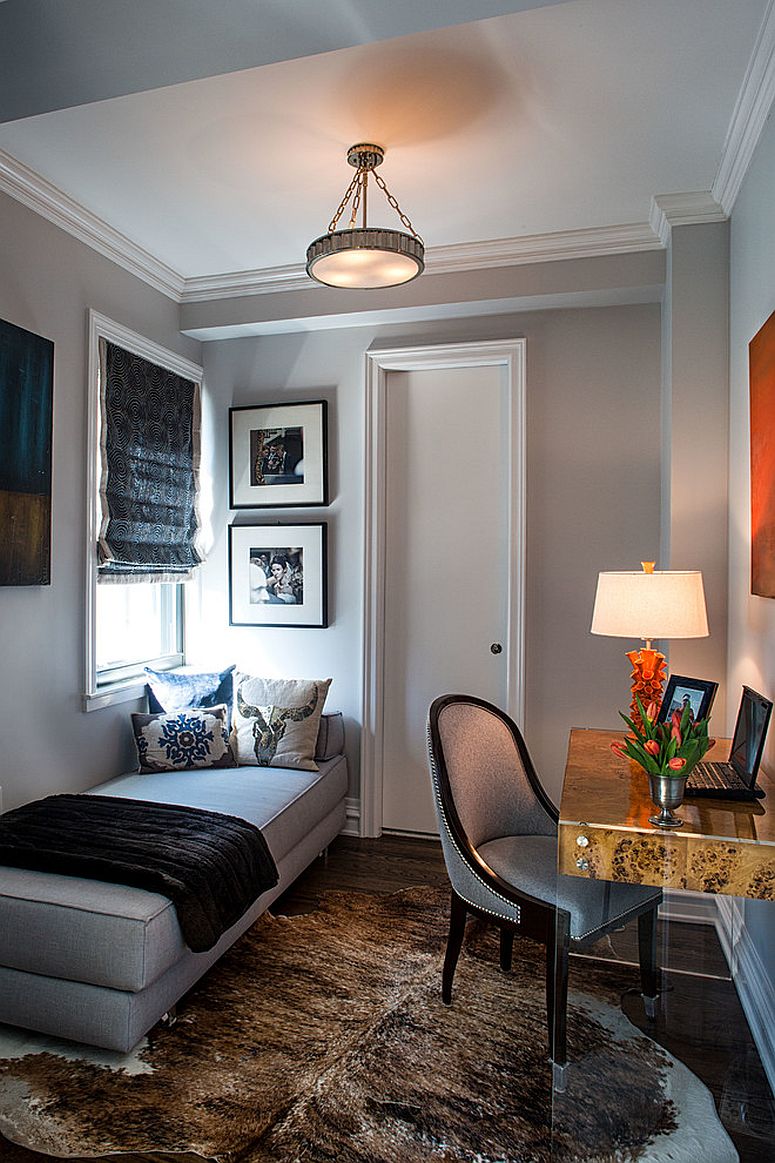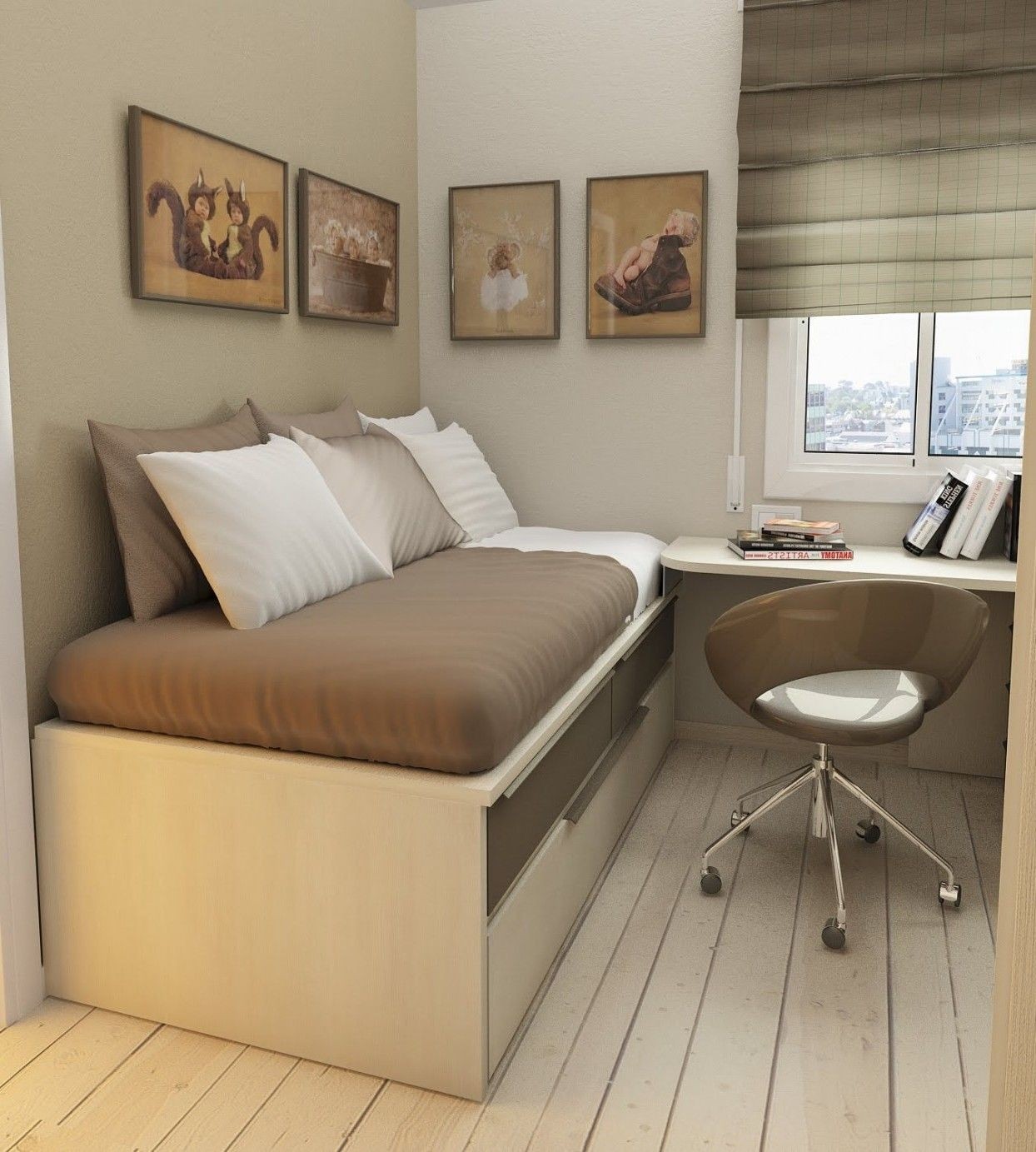 Loft Bed Ideas
It is always right to go vertical if you want to make most of the space of a small and tiny room.
Placing a loft bed in your guest bedroom is a creative idea to divide the area between sleeping and working room.
No matter what type of floor plan you have (being square or narrow and long), loft beds work well to function as a working, studying and sleeping room combo.
If you put the loft bed and desk against walls, you can even install shelves or pegboards to get additional storage space for books, or office supplies.
Except for a worktable, the under bed space even can accommodate an extra dresser or closet.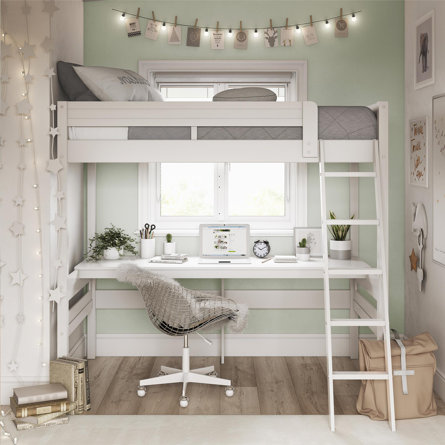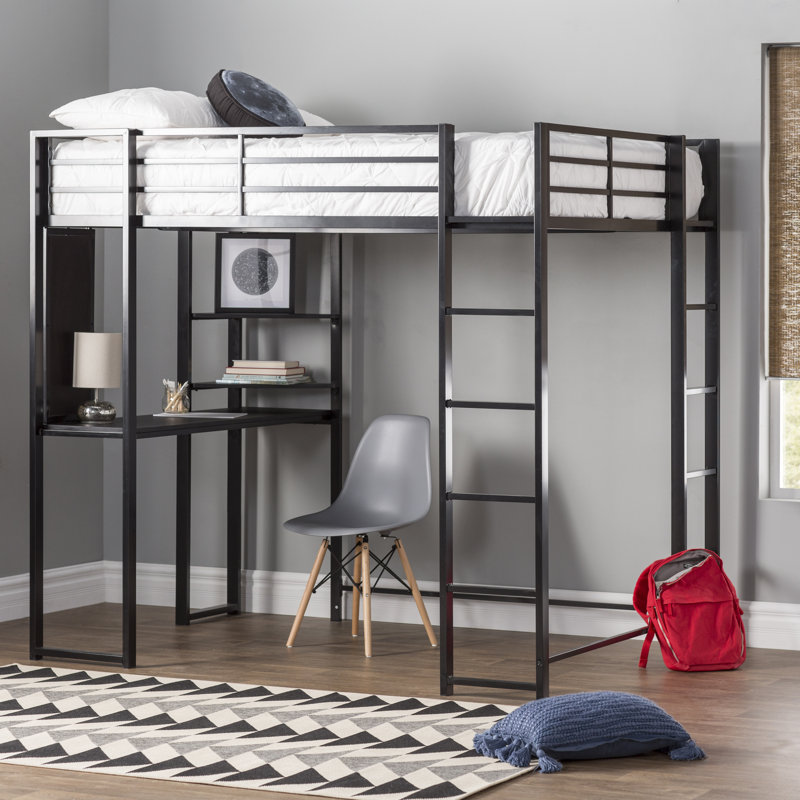 Floating Shelf Ideas
Want a spacious pathway to pass through? Or, you really don't want to change the overall look in your small guest bedroom?
Floating shelves can do a much.
Prepare to display photos and decors to make your small home office feel at ease? Or, require more space to store your books and office supplies? You can choose your favored wood material and color timber and arrange them in neat and unique lines to fit your interior design.
More importantly, when you want your worktable exposed to direct sunlight but do not want the arrangement influences the natural light through the room, you can even turn the floating shelves into a work surface in front of the window.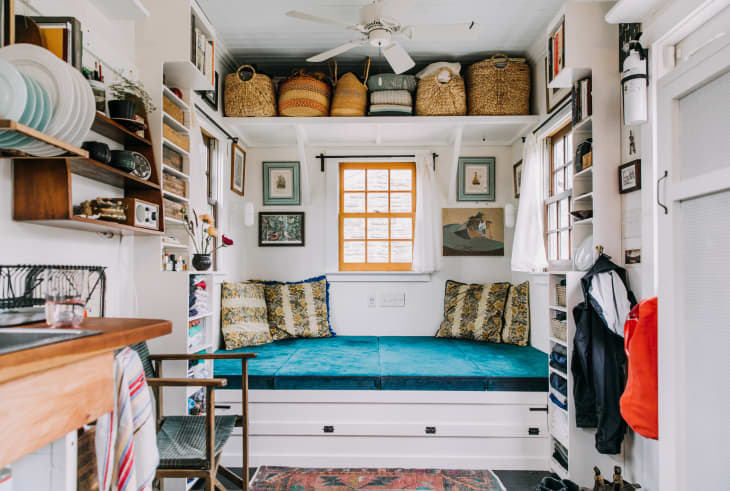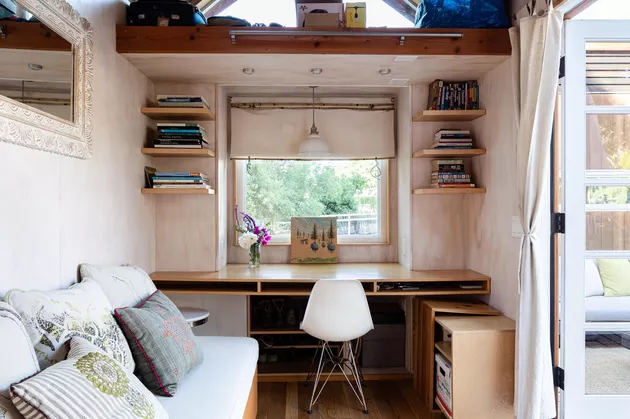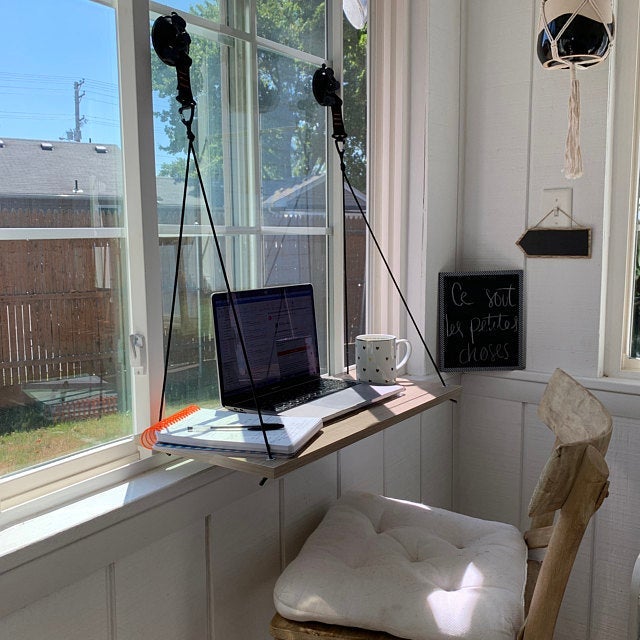 Storage Desk Ideas
Want a neat and clean workspace? Have a lot of personal office-used items to put, but you just have a small desk in your tiny guest bedroom office?
Replace your normal desk with a storage one!
The storage desk easily fits into your interior design and gives your working area a tidier look.
If you want your tiny space to look larger, except for putting floor mirrors, you can also get a secretary desk which won't cramp your small room.
Decluttering is not your first consideration? Getting an open storage desk is ok!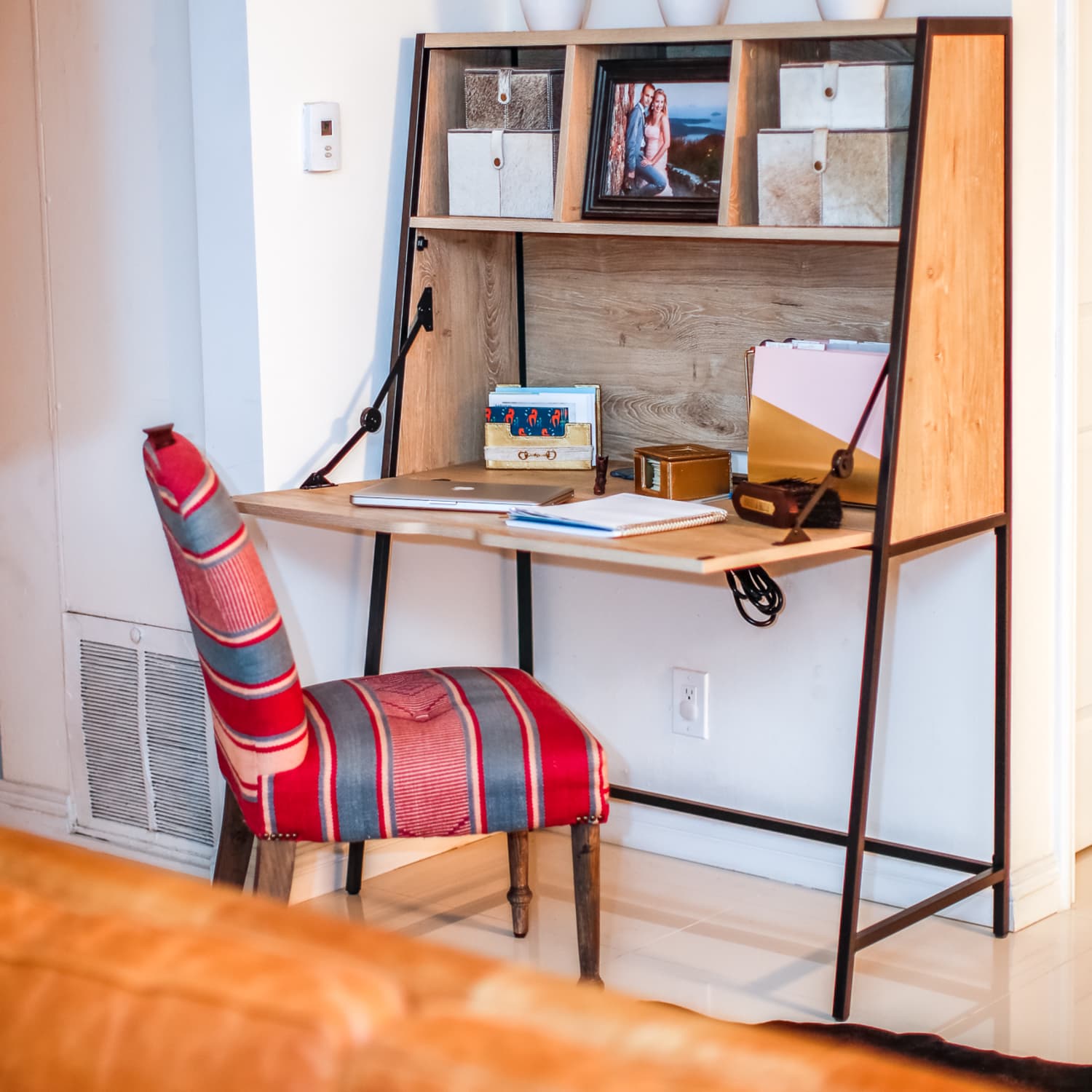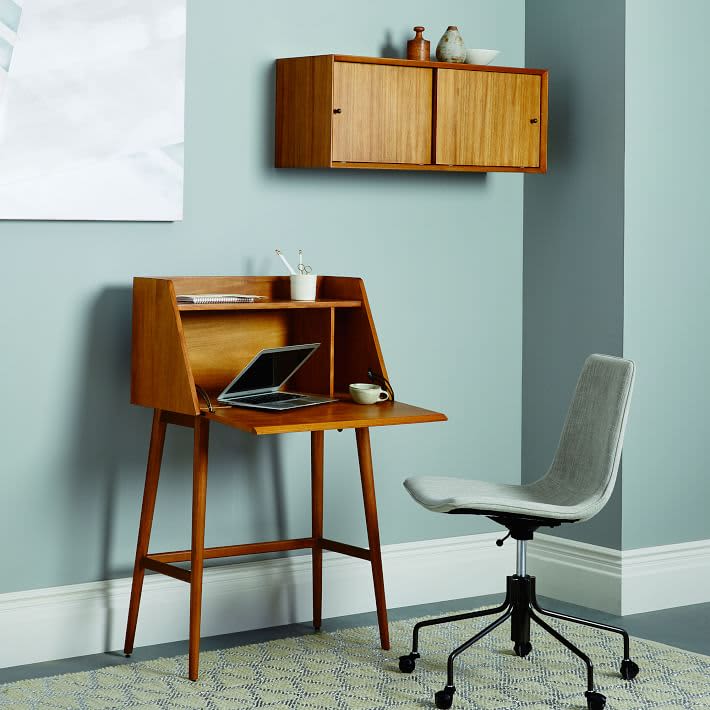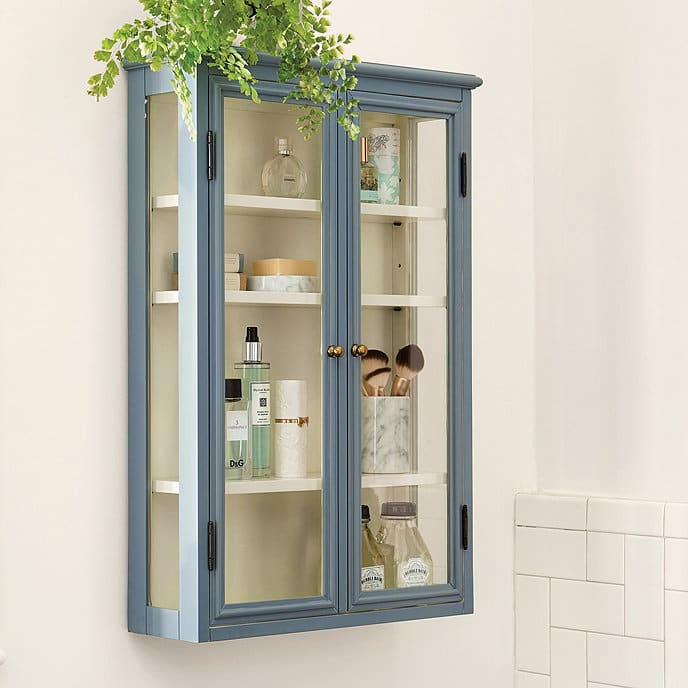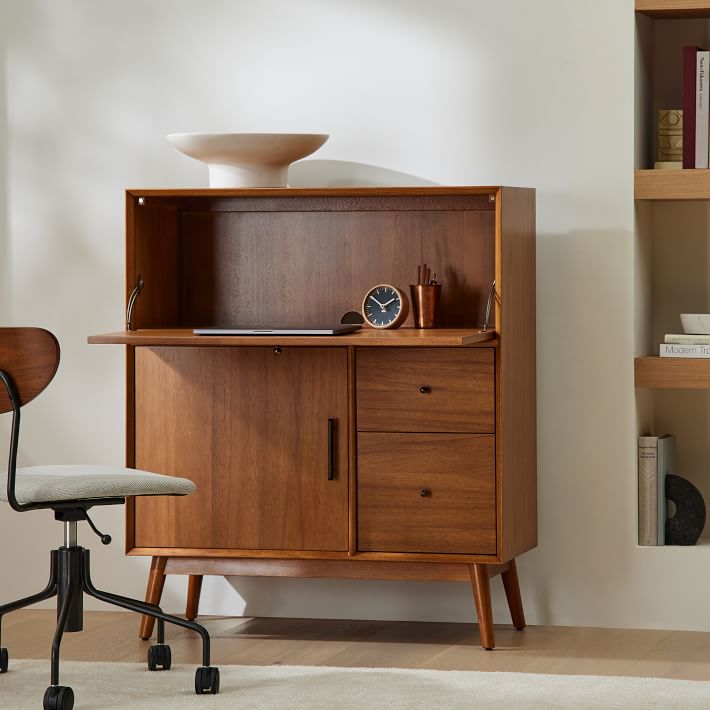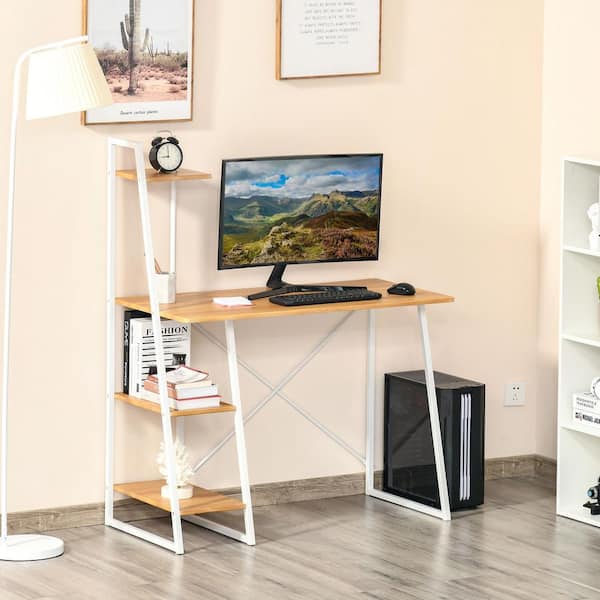 Corner Desk Ideas
Want to make your small guest bedroom office look more spacious? The most direct way is to declutter the furniture and make full use of the corner space.
Corner desks together with several wall shelves are positive ideas.
This idea ensures a hassle-free for access, and with corner desks, you will get more floor space for walkways and other furniture.
The corner desks mainly consist of 2 types,
If you want a big desk for office work, and haunting documents, you can get an L-shaped corner desk.
While if you just want it to hold your laptop, cups and table lamps, a triangular corner one is more suitable.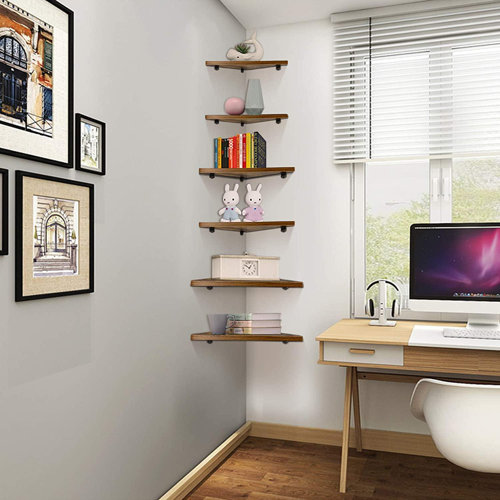 Foldable Table Ideas
Drop down desks, or what we say wall fold down desk and fall down wall desk, is another space saver for homeowners in pursuit of sit-down working activities.
The legless structure removes visual clutter. When open space is needed, it is easily stored out of the way.
Worry that it can't match your interior decor? Never mind! The foldable desks, with various shapes, designs and colors, never compromise with style and look.
You can get marvelous varieties, being a traditional one or a modern industrial one.
Worry that it will get fragile quickly? Never happens! Foldable desks, installed with metal brackets and screws are quite persistent.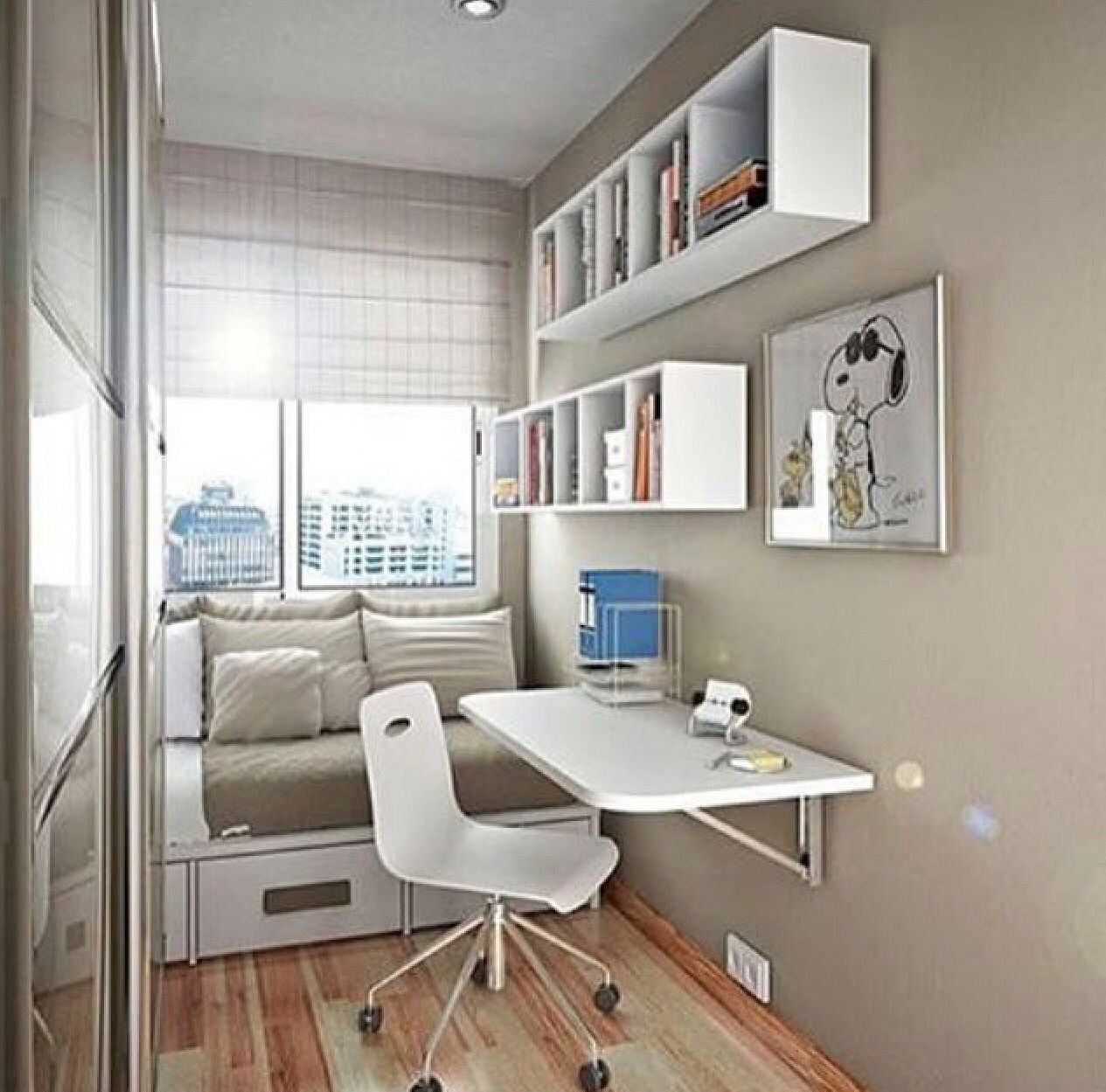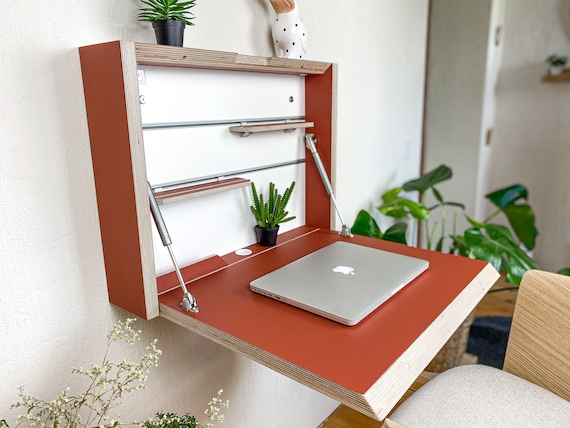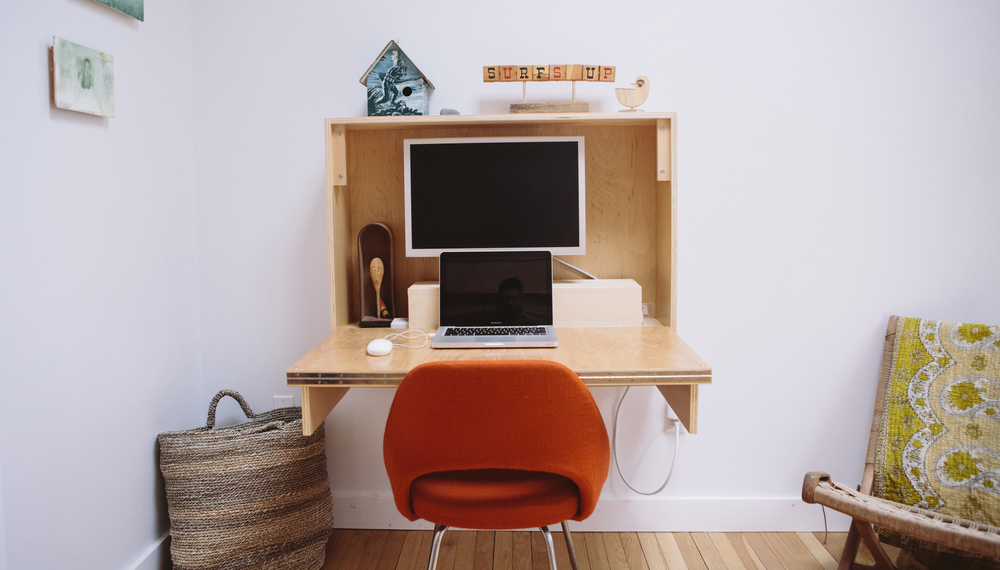 Bedside Table Ideas
If your guest room is ultra small, you must consider which furniture is to be removed.
The first exclusion should be your nightstand if you want the space as a more functional home office.
Compared with a traditional nightstand only as a decorative piece, the bedside table is taller and larger, being more practical. With it next to your bed, aside from putting night lamps and phones, it could be a perfect area for doing your job or studying.
Rolling Desk Ideas
It is a pain to sit on the bed to do laptop work. Do you find a quick eye strain while you work on the bed?
You are most likely looking at your screen from a wrong angle, especially when you put the laptop on your lap.
A rolling desk provides a flat and stable surface and gives a right height that won't strain your eyes.
Plus, it expands your working space over the bed, reducing the fear of spilling water on the bed.
Before bringing it home, note it matches your bed size.
Note it may be not the best option if you doing jobs all day long.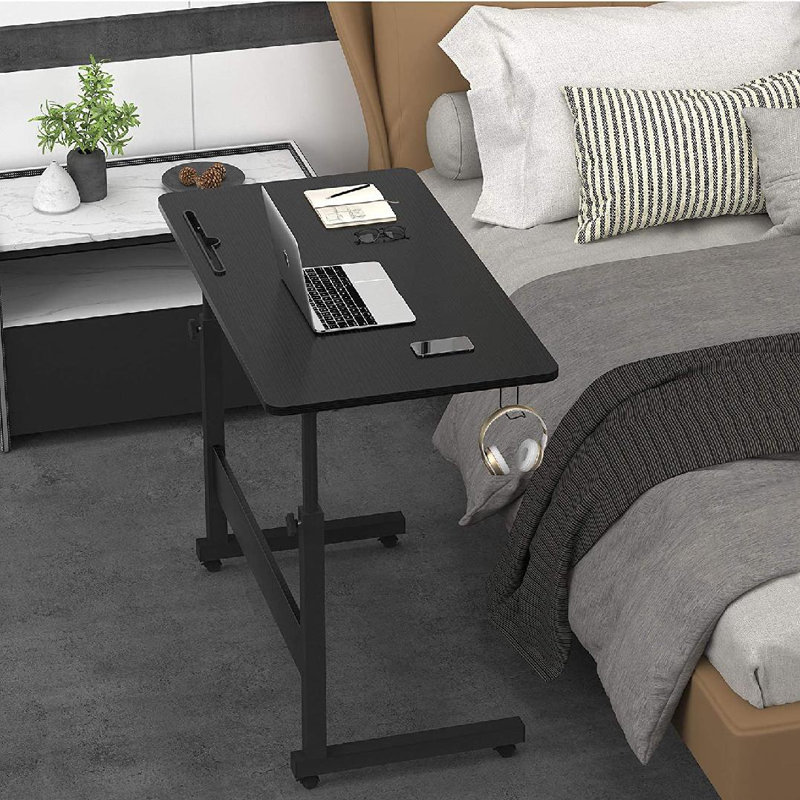 So, What Principles Can You Follow to Well Design the Small Double Duty Space?
For the sake of the room size, layout and personal situation, the above ideas may be not suitable for you.
Don't worry! We summarize some principles for your reference if you have a small guest bedroom that is rarely used and want it to be an office combo:
1. Go Vertical
Remove the furniture which can be altered with wall mounted ones.
If you put all the targeted furniture on the floor, it must reduce your walkway. Then the room looks crowded and messy.
Utilizing the full height of space helps you out.
Replace your floor cabinets with wall mounted shelves and closet. Have your tables on walls if you want a spacious area for passing through.
2. Make Use of Corners
Corners seem to be one of the overlooked spots when it comes to designing.
A few floating shelves or corner desks go a long way in small guest bedroom corners and they are stylish in this tight space, which is easy to access and seldom cramped.
3. Make Use of Closet Space
If you have a closet (Check the layout and design of a 4×4 walk in closet) that is rarely used in your small guest bedroom, why not update it with a home office area?
Hide it with curtains or sliding doors if you want a decent guest room.
4. Do Double Duty
In a small guest bedroom office, it is all about multipurpose furniture.
Make your bedside table double as a workplace. It helps reduce the number of pieces in room, stopping the feeling of a tight and cramped space.
Together with extra wall shelves, you won't need extra closets and dressers.
5. Choose Lightweight Appearance Furniture
A piece of lightweight look furniture reduces the clutter and makes your room look larger than reality.
Being able to see the floor running beneath furniture gives an illusion of space.
That means, go legless worktable or desks and chairs with slim legs.
6. Try Foldable and Tuck Away Design
Foldable furniture keeps your office supplies organized and makes your small room look spacious.
Get a foldable wall desk or a murphy bed that is easily stored when not in use.
The ideas and principles for enlightenment end here. Below are some cases you can copy directly.
Our Small Guest Bedroom Office Combo Solutions
Have a look at some of the cases we dealt with.
"I want to fit a big desk, a dresser, a closet and a book shelf into my small guest bedroom."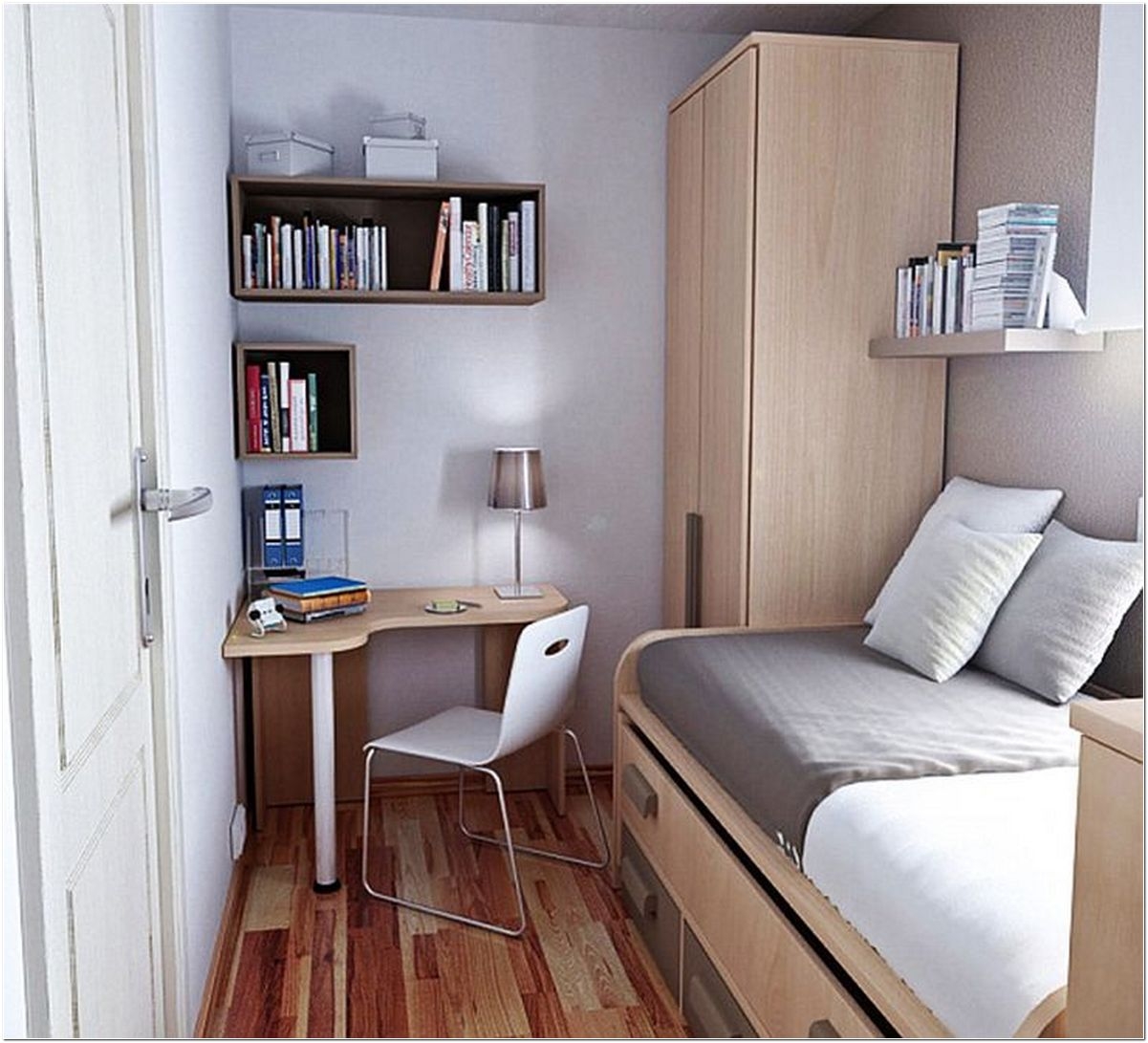 L-shaped corner desk allows an extension of the workspace. The floating shelves are free of floor space and provide enough storage zone for books. There is a 28 inches or 70 cm distance between the closet and the worktable, which allows ample room to open the closet doors. A daybed is designed with a storage headboard, on top of which you can put mirrors and cosmetics to do makeup.
"I really want to have a study desk, but I am sharing a guest bedroom with my sister and our room is small enough to not put any desk there. Luckily, there is a window seat in our room."
The rolling table support to be pulled out when you are working while can be pulled in when not in use.
We attach 4 omnidirectional wheels for a great and smooth movement, and a PVC board at the end to prevent pushing so far.
At the End
Since the natural sunlight, to some extent, stimulates your productivity, it is better to place your work table in front of the window (if possible).
For this occasion, you can install a drop-down desk below your windowsill or put a table on your window seat.
If you have a pile of documents, it is recommended to renovate your closet. Use a curtain to separate the office from the rest of the guest bedroom.