Hello, my fellow; I have been researching a new natural style of TV stand decor since the last time I dug deeply into rustic style TV stand decor.
Finally, let me introduce the Bohemian style to tug your heartstrings: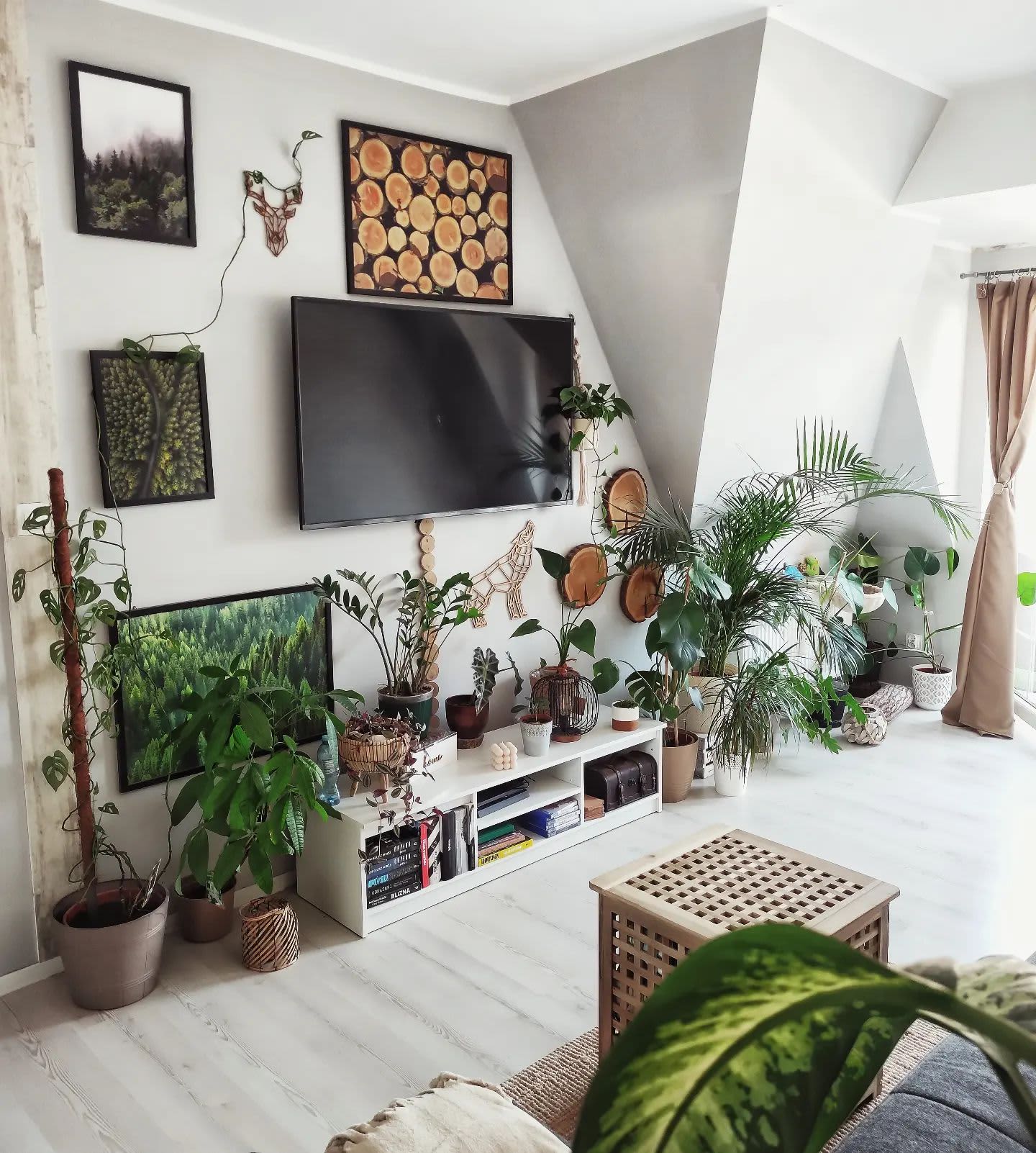 That's a stunning look right? You can embrace the natural and laidback vibes with Boho style.
Moreover, born from free spirits and eclectic, the boho style allows you to show your talent freely on TV stand decorating.
This room includes some classic boho-style elements but not all. Keep reading on, and I'll show you more and how to arrange the boho tv stand decor with the following 4 steps:
Find Out What Boho Decor You Need: This helps you find the basic tone of boho TV stand decor.
Determine Your Boho Color Palette: This makes your TV stand decor look cohesive.
Layer the Decors Around TV Stand: This will enrich your boho decor's visual effect.
Make It More Personal: This helps you make the boho decor belong to your style.
#Step 1: Get Boho Decors and Find a Vibe for Your TV Stand
The eclectic nature of the bohemian style allows you to use a wide range of decor on the TV stand.
Generally, common options like rugs, baskets, tropical plants, artwork, and ornaments are all available in TV stand decor.
But the boho style is full of texture and natural.
The boho-style decor is close to nature and appreciates its texture. What you use for decor should have natural textures as well.
Rattan, woven, macrame, wicker, and wood are necessary elements in decorations like plant pots and baskets.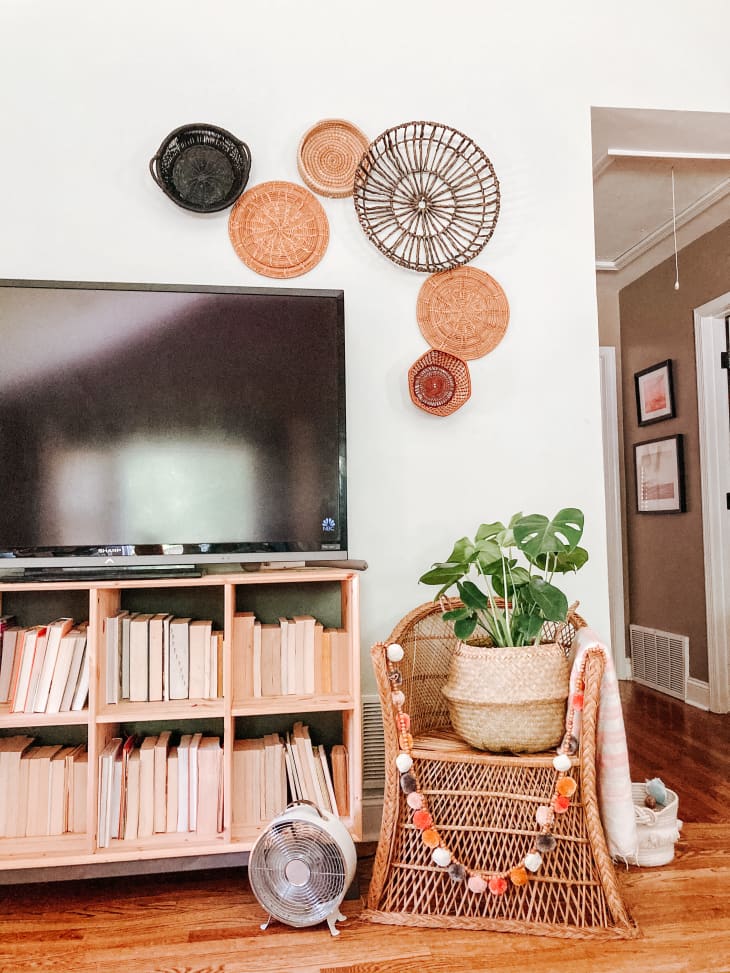 Patterns play a vital part in boho Decor.
No boho-style decor would be complete without rugs and artwork. Luckily the space around the TV stand area is available while decorating.
Boho style is about art and creation. The usage of geometric and natural-inspired patterns on rugs and wall art proves it.
Stick to these boho characteristics will save you time in selecting decorative items. But here's another factor you should pay attention to when selecting decorations.
While decorating, the proportion of different types of decoration you use influences the final vibe of the boho tv stand decor. To reach a better effect,
You need to learn what boho vibe suits your TV stand.
Since the boho style appreciates the natural texture of things, you can choose boho styles that enhance the vibe of TV stands' textures. For example:
The wood texture TV stand symbolizes the natural, vintage feel; the decor should lean towards a vintage bohemian style that accents greenery and organic.
And a sleek finish TV stand tends to be a more modern aesthetic, so you can choose to play up with more artistry work.
#Step 2: Play with Color Palette
To make your TV stand decor look more coherent, you can settle on a color tone first.
No matter what color you choose, make it light.
Boho style aims to brighten and freshen up your rooms. Hence opt for bright and neutral colors when doing your boho decorations.
And according to the different color palettes, you can create different styles named colorful boho style and neutral boho style.
Colorful boho style: brings you the most original and vivid vibe
Many colors are used in this original boho style, including bright yellow, blue, red, and jade, which create rich jewel tones.
You can feel the energetic and strongly personalized atmosphere in a colorful style. If you want the TV stand area to be the central part of the room interior, settle for the colorful boho-style TV stand decor to amaze your friends.
When decorating a TV stand, make a pop of color. Just ensure every decoration you use has a blend of vivid colors and patterns.
You can try to place pattern rugs rich in color to fill the space in front of the TV stand. Or you can mount some vivid rattan baskets on the wall.
If possible, you can repaint the TV wall with bright colors and patterns for the best effect. And use more abstract wall arts as well.
Neutral boho style: more gorgeous and modern vibe.
This is the most common boho style you can see in living rooms. As its name, a neutral boho style uses neutral colors like off-white, creams, vanilla, and beige.
The most significant difference is that the neutral boho style looks more modern and gorgeous. Hence your boho TV stands decor will blend well with your living room interior.
Keep the decorations you use in light colors. Blonde rattan baskets, gray pattern rugs, and white planters are enjoyable.
#Step 3: Arrange Your Decors and Create Layers
Finally, It's time to gather all your boho decorations and arrange their positions.
Whether how many decorations you gonna use or what color palette you stick to, create layers to make your TV stand look more bohemian style.
Create Layers on space.
One of the easiest ways to create layers is to duplicate the boho elements in every dimension.
Let's take plant decor as an example:
If you place a pot of plants on the top of the TV stand, then position a floor plant next to it. Or you hanging some plants on the wall as well.
Another common way of creating boho-style layers is rugs. You can place a piece of rug on the floor and hang another one on the TV wall.
Create Layers on textures.
Layer the texture used in decorations plays a vital role in boho decorating. You can use rattan planters and rattan baskets to enhance the natural vibe.
Sometimes it works better if your TV stand has the same texture you layer in. You can find the rattan door TV stand matches well with the rattan baskets.
Or layer rugs on top of another piece to create a cozy atmosphere. And you can position an armchair next to your TV stand and layer throw blankets on it.
Create layers on patterns.
A layer of patterns will create a boho vibe effectively when you decorate the TV stand. Layering patterns means adding patterns on any surface of your decorations.
You can choose wall art with geometric patterns for your pattern rugs. Try to mix different color patterns if you want a colorful look.
Or stick to a monochrome pattern for a modern elegant looking. You can use black color as well. But the applying area should be controlled. A black-white pattern rug helps you build a simple boho style instantly.
#Step 4: Be Creative and Make It Storytelling
Natural, romantic, artistic, comfortable, casual, retro, vintage…there are many characteristics you can discover in boho decor. And you should create the boho TV stand that tells your stories.
Grab, steal, and beg…mix it with your family memory
"… bohemian designs embrace cultural influences and global style."

Home Style Expert & Designer Beth Diana Smith.
Boho style aims to reflect who you are and what you have experienced. The stuff you use can be from your or your family's precious memories.
You can create a gallery wall that uses your family's albums. Or put the decorations on the TV stand you gained from one trip. You can even get some good stuff from your grandma's attic.
The more personal your decor is, the deeper you are into the boho world.
DIY is welcomed.
If you are a DIY lover, try to make every boho decor out of your hands. This is the best way to connect your personality to the boho style.
Try to dye rattan baskets or show your talent in painting. The boho style accents the spirit, so you don't need to draw like a pro. Just express your mood in a painting.
You can try to DIY your TV stand into a boho-style one.
Here's the video you can follow with.
Wrap It Up
Boho TV stand decor is a worth-trying idea if you love a personal look in your room. And the process is full of fun.
In the end, I hope you can find your peace and satisfaction in the Bohemian-style spirit world.
If you want more, read the following posts to gain more ideas about TV stand decor…