Do you know the best place to soothe your mood at home? The bathtub! Not surprised, right? Studies have already proved that soaking in hot water helps reduce stress and anxiety.
However, do you know that even not soaking in tubs, you can still enjoy a soothing and calm atmosphere with some sage green bathroom accessories?
Truthfully, colors affect our emotions and how we experience the world.
Generally, sage green is perfect for anyone pursuing a relaxing mood; this soft, neutral color adds peace and serenity to your bathroom.
Today, I'll show you how to add a splash of sage green to your bathroom by using different accessories.
(If you already have this color in your bathroom, I won't skimp on your demand; check the end to get my bonus ideas!)
Keep reading on!
---
First, Fulfill Sage Green Accessories On the Bathroom Countertop
Let's start with the countertop part first. During the morning wash-up, some sage green freshes your mind up.
Our to-be-more-greenish list includes toothbrush holders, lotion or soap dispensers, and soap dishes.
Make sure you pick from natural finish options; sage green in ceramic, crystal glass, and matte stone finishes add more natural vibes to your countertop.
You can buy a whole set of sage green bathroom accessories in one fell swoop. This way saves your budget, and these accessories look more unity.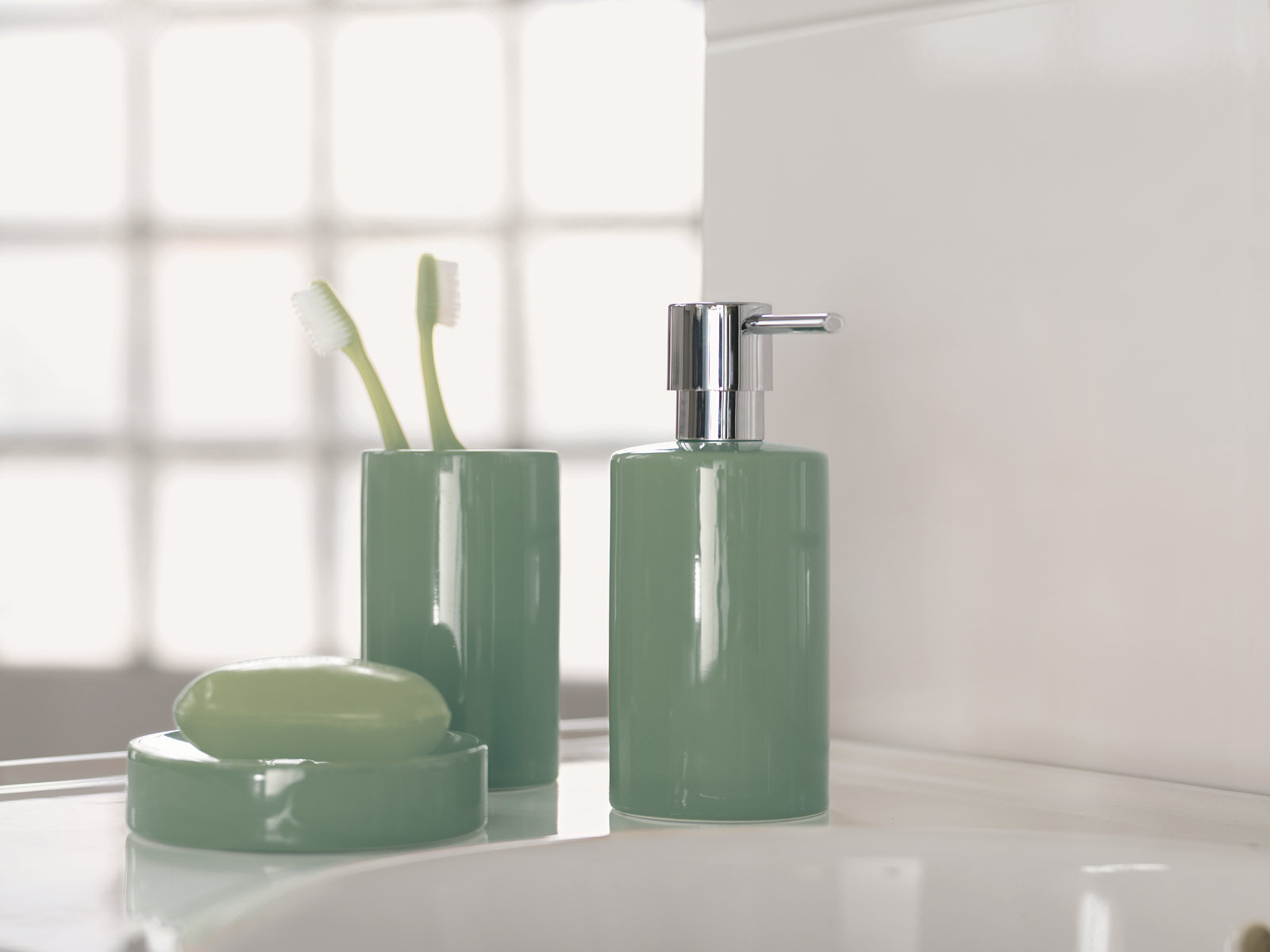 If you prefer to put the dispenser or soap on the other side, you can try a different texture for more style. A crystal glass look will be stunning.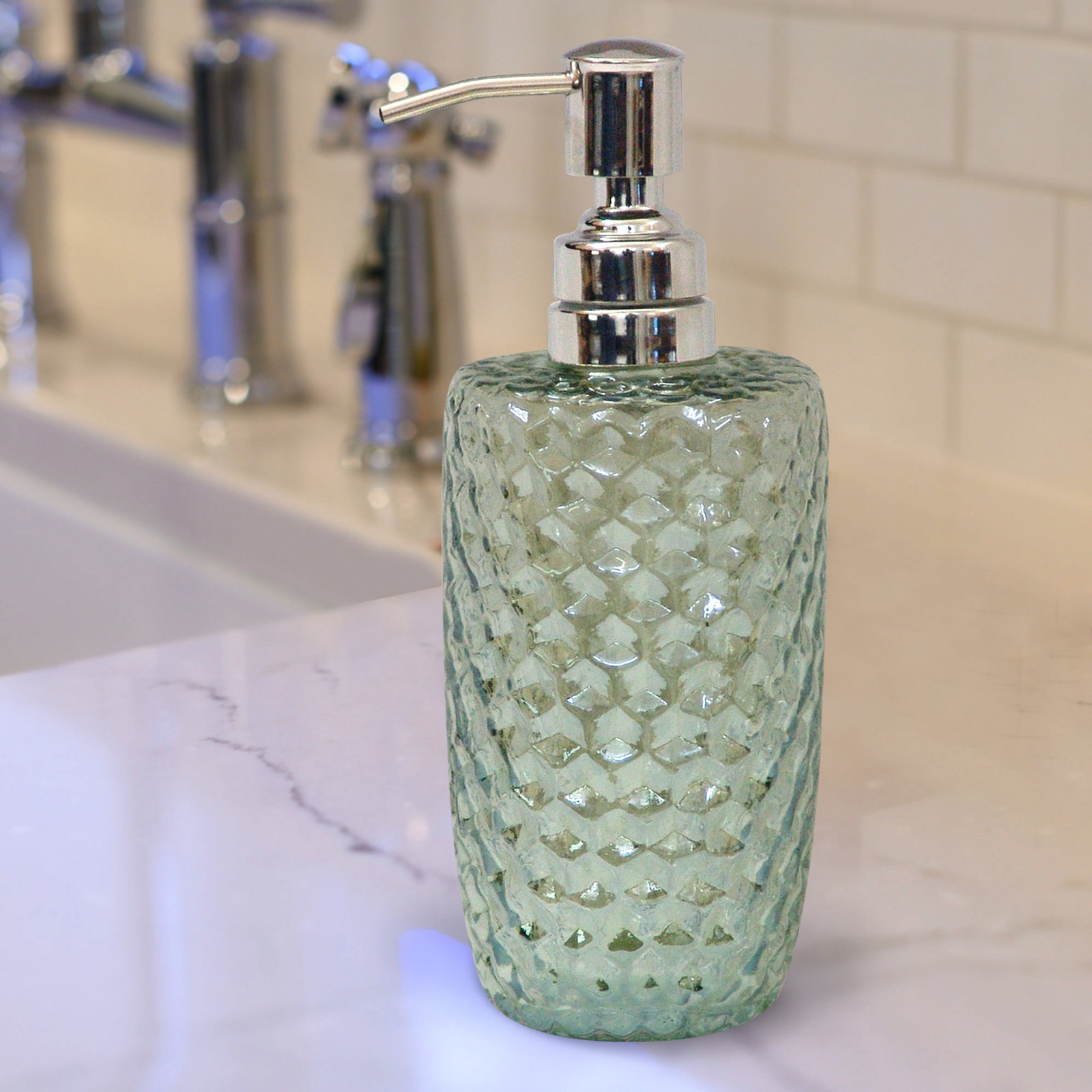 Adding a small ring holder is another good idea to bring sage green to the countertop. As I said before, go bold with nature elements.
If you have a small vanity or want a tidier countertop, you can install sage green bathroom shelves for extra storage space. A neutral green color shelf matches all kinds of bathroom wall perfectly.
---
Decorate the Shower/Bathtub Area with Greeny As Well
Now let's walk into the bathroom deeper; the shower and bathtub area is our next target.
We don't have too much space for the sage green on the countertop. But here comes the chance: shower curtains are the main layer of the bathroom interior except for walls and floors.
I can't let it slip away, so sage green curtains are essential. You can opt for patterned or solid color curtains by your preference.
But be particular about what patterns you choose from. Vivid plants and florals look fancy, but simple lined or abstract curved patterns are the best choice for a relaxing mood.
Due to the visual effect, curved lines hint at water flows which bring out a sense of harmony.
Besides, your bathroom will have a high-end touch with sage green curved pattern shower curtains.
Since the large layer is finished, let's check the details. Throw the plain steel hooks out of the window. Why not replace them with lovely faux leaves?
Move our sight to the tub, where we relieve soreness of the body. You can use a sage green bathtub tray as a soaking accompany. I even feel calm merely admiring how they match my light color bathtub.
I am glad that my wife highly recommends me to relax in hot water. Now I enjoy soaking in hot water, then close my eyes and enjoy the tranquility.
Usually I only put the soap, loofah sponge, and other bathroom products on the tray.
If you release your body similarly, opt for a simple shower tray with enough drainage design. You'll have enough space to put a cup of drink and light a candle for ambiance.
Mint and circus scents are my premium choices. And they have a hint of greenry nature as well.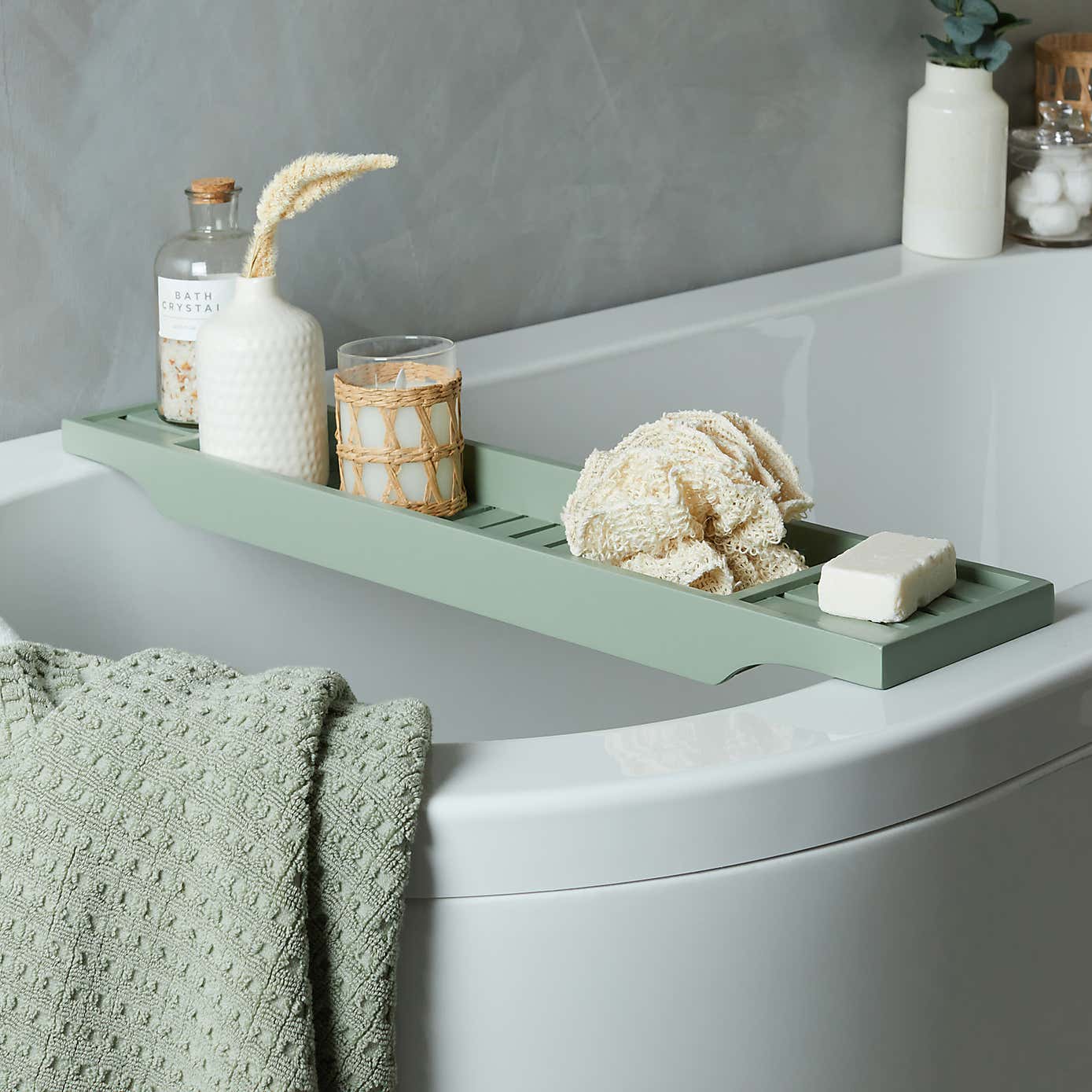 ---
Check Walls And the Underfoot, Ensure Sage Green Is Everywhere
We have finished the main areas; the next step is to check where you can set more sage green accessories in the bathroom.
Rugs are easy to find. For a bit gray and dark bath floor, a shade of sage green rug is compatible.
And don't forget to replace all the rugs you use in the bathroom: the shower, bathtub, toilet, and the entrance. Feel free to use any shapes you want. Of course, you can buy a set of sage green bathroom rugs instead.
Don't forget the towels. Towels are part of the wall decor and enhance the room's vibe.
You can use deep sage green linen towels for a rustic natural feeling. Or opt for the bright sage green color to infuse a cozy vibe in the bathroom.
---
More Decors Ideas to Find
Besides all the essential accessories for the bathroom, here are more sage green bathroom accessories you can choose from.
---
Bonus: Decorating Tips for Sage Green Bathroom
Already have painted your bathroom wall sage green? Hooray! All the decorations we discussed above also match well with the sage green bathroom.
If you are not satisfied with a tone-on-tone decoration idea, here I prepared 4 stunning sage green bathroom interiors that will inspire you on how to decorate your own.
#1. Embrace Elegance with Antique Accessories
Neutral sage green colors hint at the aesthetics of calm and peace. Why not go for a vintage gorgeous look bathroom that calms you as well?
Brass color, complex vintage pattern, dark wood…all of them will add charm to your sage green bathroom. Deep colors will make the sage green wall pop up and make a statement.
Megan Munich (@EclecticBobbles) shared this industrial cottage sage green bathroom. The sage green wall looks gorgeous with the antique frame decorations.
You can try to duplicate the small decor or go bold with a big one, such as a big wall art mirror above the bathroom vanity.
#2. Bring Wood Accents to the Greenish
Wood is never out of the window when we need some inspiration for a natural looking. You can also use wood elements in your sage green bathroom for a rustic chic.
You can add a piece of wood furniture directly, like a wood barstool near the bathtub. Or be more creative and refurbish the decorations in your bathroom.
In this sage green bathroom you can see how the wood elements applied on the mirror frame and shelves. Rather than thick wood board shelf, give them volume to enhance the earthy feel.
#3. Play with Artwork
Try to add some artful chic since sage green is a wonderful canvas for wall art.
In the following bathroom, white tiles occupy most space, and for the above sage green color, you can hang on several pieces of wall art to grab some attention.
Feel free to choose any theme of wall arts you like; I personally love plants, so I will replace these lovely birds in my bathroom.
Tile the wall is also a good way to use sage green color in the bathroom. Nautral green tiles makes a different and give a fantastic combo with patterned floor.
#4. Take Use of the Bathroom Windowsill
I merely talk about putting decoration on the top surfaces in the bathroom. But here I want to note that the windowsill we may neglect and pile the odds and ends on it.
Treat it like a display platform. Put something that show your personality on it. But ensure that they are in warm or neutral colors like wood tone, gold and white etc.
This idea is about how make the bathroom more persoanlized, so make a bold statement about what your are going to display.
---
Well, That's the End
Phew, we've finished them all! Now you have learned how to use sage green accessories to make your bathroom a calm space.
I really enjoy teaching my friends how to use neutral color to add vibes to their homes. And sage green is almost one of my favorite color for its powerful hints of peace and relaxing.
If you enjoy ideas about making place peaceful and relaxing, check our posts about other stunning ideas about neutral color rooms. Here's the link: