It is a tendency that a sink and cabinet combo is an essential part of the laundry room. But there are extensive options available on the market. How to choose these functional additions to perfectly fit your needs?
We break down the selection guideline on laundry sink with cabinets into:
Let's talk about the dimension first!
Make a Decision on Your Targeted Size
(Here, the size indicates the sink dimensions!)
The ideal sink size in a cabinet for laundry should be wide and deep for multiple cleanup needs.
The standard sink for a laundry room is around 23 inches in width, 20 inches in length, and 13 inches in depth. But you can even get an 18 inch (in width) narrow sink for your long and cramped laundry.
Check the detailed sink length that best works in your space:
If you have a small laundry room and just want to rinse out the lint filter in the washing machine, choose a 20 inches, 21 inches or 22 inches laundry sink with cabinet.
If you are inclined to soak and rinse heavy and bulk items or want to hide away detergents or other laundry accessories on top of the cabinet surface, an 24 inches, 28 inches or 30 inches laundry sink with cabinet would work well for your preference
For people who have a sizable laundry room and intend it to function more use and organization, a sink with 36 inches to 48 inches in length (always a double bowl sink) looks more harmonious.
Take a peek into the sink standard depth:
Generally, a sink in a laundry cabinet should be at least 10 inches deep (10-15 inches often, 25 inches at most) to allow homeowners to soak large and bulky items or dying fabrics.
The 15 inches depth sink could hold about a minimum of 15 gallons of garments, while the 24 inches depth basin could accommodate 20 gallons. (Assume the countertop height is 36 inches)
If you still have no idea, look at the standard size selection for a freestanding sink cabinet for laundry:
It is tested the boundary of the laundry sink should be set aside at least 2 inches apart from each boundary of cabinet.
That is to say, if you choose a cabinet with 24 inches wide and 18 inches long, you can expect the sink size to be 22 inches wide and 14 inches long.
So, ensure how much space you are putting aside for your laundry cabinet first.
Size is the primary point to consider for a laundry sink cabinet, but you should still pay attention to what additional needs you are expecting it for.
Narrow Down Your Requirements on Types
There are extensive options available on the market. Know the broad types of laundry sink with cabinet which will spare your time and money for separate accessories purchases.
1. Laundry Sink with Cabinet and Countertop – Garment Treatment Winner
Suppose you have to iron garments, linen sheets, or sleeping bags in a washhouse or mudroom, then a laundry sink with cabinet and countertop is more likely to be an assistant for you.
For one aspect, the built-in countertop will beautify your laundry room and can make your space more tidy and clean.
It also offers a convenient and smooth space to allow you to sort and fold clothes.
Pros: Smarten your laundry / Extra space for garment treatment
Cons: Not suitable for an extra small laundry
2. Laundry Sink with Faucet and Storage Cabinet – Best Choice for Organization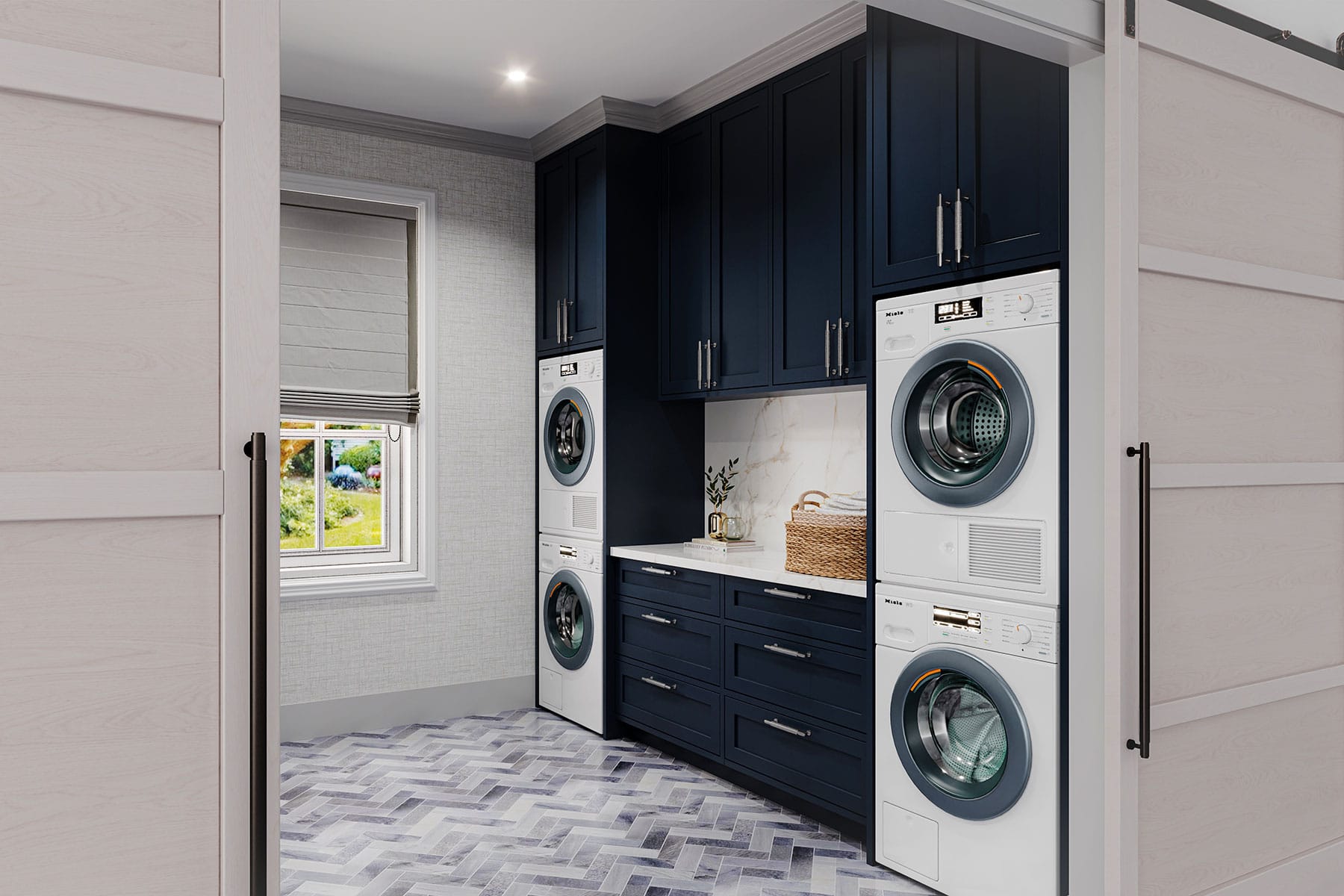 A laundry sink with faucet and storage cabinet is an all in one item to tackle with large families and homeowners who dislike dirting on the inside of the house.
Consider not putting undue strain on your washing machine? A fitted faucet and sink clean a multitude of items that are not suitable to be cleaned in your washer.
The fitted cabinet can host an amount of laundry detergent, and cleaning cloth… for even a family with 4 to 5.
If you are accustomed to presoaking clothes prior to washing or hand washing some delicate items, go for the laundry cabinet with sink and faucet.
Pros: Great for a large family / Impressive storage / Convenient use of water
Cons: Should design or renovate the drain system before installation
3. Laundry Sink and Washing Machine Cabinet – Beautify Your Washhouse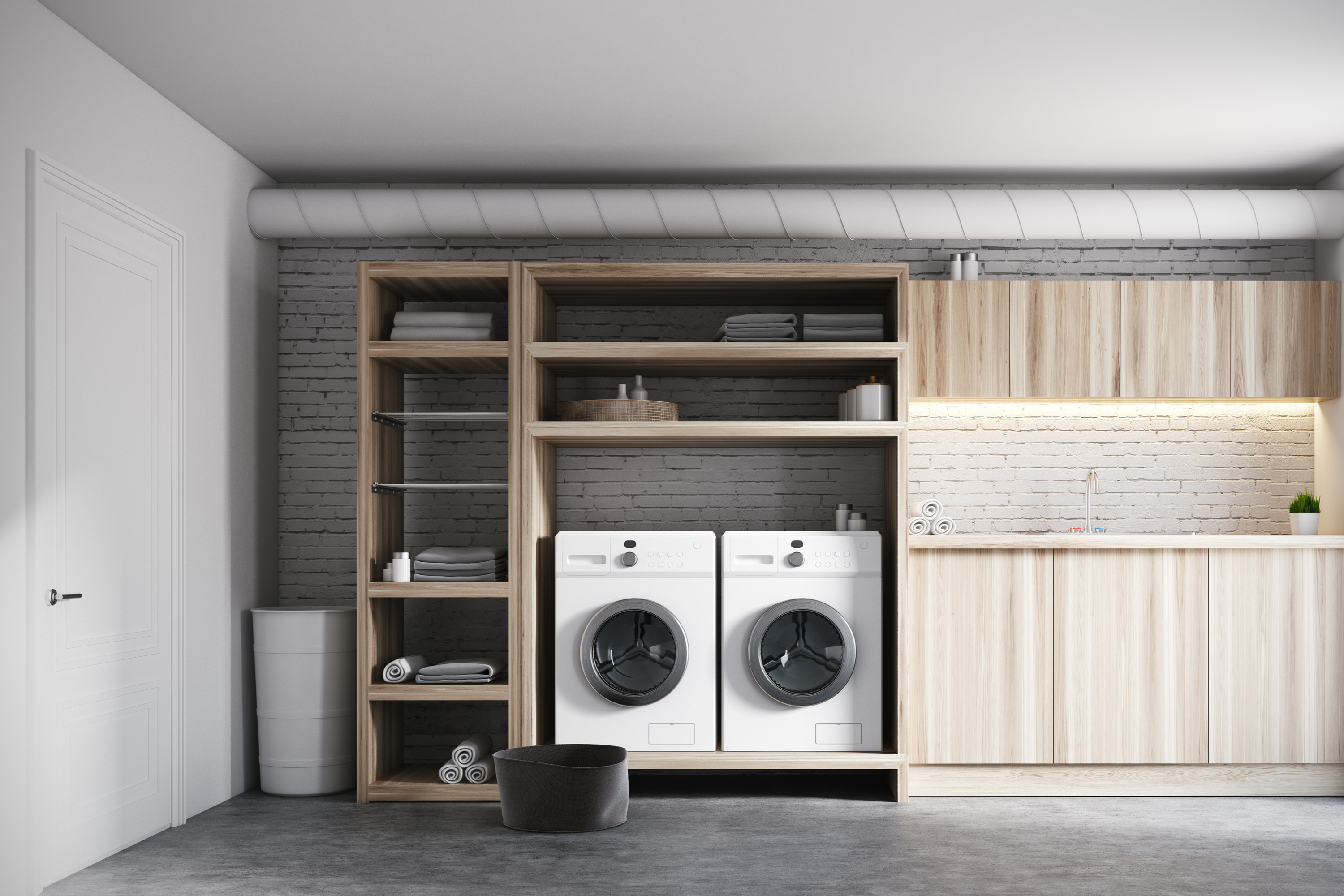 A laundry cabinet (built with storage shelves or drawers) significantly increases your ease of use for the cleaning detergents and will not make your space look messy.
But a sink cabinet looks awkward if you manage the washing machine to your laundry without embellishment.
When you install a cabinet combo (sink cabinet and washing machine cabinet), you will find it styles the laundry and brighten the interior.
Pros: Additional usable work area
Cons: Should buy a washing machine first to get it a better match with the cabinet size
4. Double Bowl Laundry Sink Cabinet – Solutions for Separate Washing and Drying
The double bowl laundry sink cabinet offers much functionality.
If you are in favor of rinsing or handwashing your tops and pants separately, or women's garments from men's garments, it is time to go for a double laundry sink cabinet.
The divider in the double basin helps you designate one side of your sink for washing and the other for drying and rinsing.
Pros: Great for washing in partitions / Ideal for hand washing, rinsing and drying
Cons: Take up space, not suitable for small laundry
5. Freestanding Laundry Sink Cabinet – Straightforward Option
A freestanding laundry sink cabinet is the most commonly seen and used item on the market.
Compared with a custom sink cabinet, it is much cheaper and more ideal for existing laundry.
You can get it done in whatever places you want, even in a corner. Once you have finished the installation, just fitting it into your targeted space is okay.
Pros: Flexible movement if you have enough tube / Will not damage your walls and floors / Suitable for use in a long laundry
Cons: Less function / Less choice on the sink and cabinet material
After figuring out the laundry sink with cabinet types, you can move on to the material selection.
Know the Laundry Sink and Cabinet Materials
Here, we compiled some popular materials built to sinks and cabinets for laundry.
Check the pros and cons to clearly know what type of materials make the best performance in your laundry room.
Take a Look at the Cabinet Material First
Expect on Texture and Color? Choose Solid Wood
Solid wood is a go-to choice for building cabinets when somebody has an ample budget. Real wood is a kind of timber with a great texture and color to accept more design.
The real wood timber sends a natural scent to rooms, like red cedar wood (Check the choosing guide of cedar closet if needed) will give off an aroma to repel insects.
Pros: Great texture and color / Durable
Cons: Highly expensive / will be damaged if you do ironing on it / Should be carefully maintained
Want It to Be Easy Maintained? Go for Melamine
It is an alternative to real wood. The superior point from the solid wood is that the melamine cabinet is heat and moisture resistant.
Consider melamine when you custom cabinet with a faucet sink and washing machine for laundry.
As it is easy to brush the soap spill off the melamine cabinet, you will not worry about staining the surface.
Pros: Cost effective alternative of the solid wood / Easy Maintain / Heat and moisture resistant / Accept more design / Consistent finish
Cons: Hard to install / Not durable as the plywood and MDF
Save Cost? Consider Plywood and MDF
Plywood glues multiple veneer layers of wood together to form sheets, offering good strength for the laundry cabinet.
Pros: Cheap / Less susceptible to damage / High dimensional stability / Takes paint and stain very well / Perfectly holds nails and screws
Cons: Difficult to cut and mould
MDF is an engineered material, consisting of composite fibers and small pieces of wood glued with a resin or wax. It is one of the most commonly-used finished sink cabinets on the market.
Pros: Smooth surface to manufacture laundry cabinet / Well accept paint and finishing / Won't warp and crack even in high humidity
Cons: May soak up water / Doesn't hold nails and screws well / Requires careful maintenance
⇒ Have a Close Look at the Sink Material
Go for Durability? Bring Metal Sink Cabinet Home
Metal (for laundry sink cabinets, mainly indicates stainless steel) is a robust material for making a sink because of its high density.
If you want to retain the finish of your sink cabinet in the laundry room to make it shine for years, a metal sink cabinet is the first option for your laundry.
Pros: Has a sleek finish / Robust / Resistant to chemicals
Cons: Tend to scratches and dents / Will make some noise when nail touch the sink wall / Expensive than porcelain sink cabinet / May rust
Aim for Design Enhancement? Choose Ceramic/Porcelain Laundry Sink Cabinet
A porcelain or ceramic sink is also a solid option to hold your washed garments in the laundry.
Unlike stainless steel, porcelain will not limit the look but has color varieties to make a sink.
The glossy finish adds an attractive touch and shows the taste. You can choose a sink with either trendy color or timeless color to match your cabinet color and laundry interior.
Pros: Beautiful / Against stains, heat and scrubbing / Won't go rust / Easy to be cleaned and maintained
Cons: May crack / Quiet heavy
An eye-catching style and color in a washhouse improve the mood when doing laundry. Move on to the next part if you temporarily have no idea about style and color match.
Think about Style and Color
You can take some cues for designing your own laundry room sink and cabinet.
Admire a Farmhouse Laundry?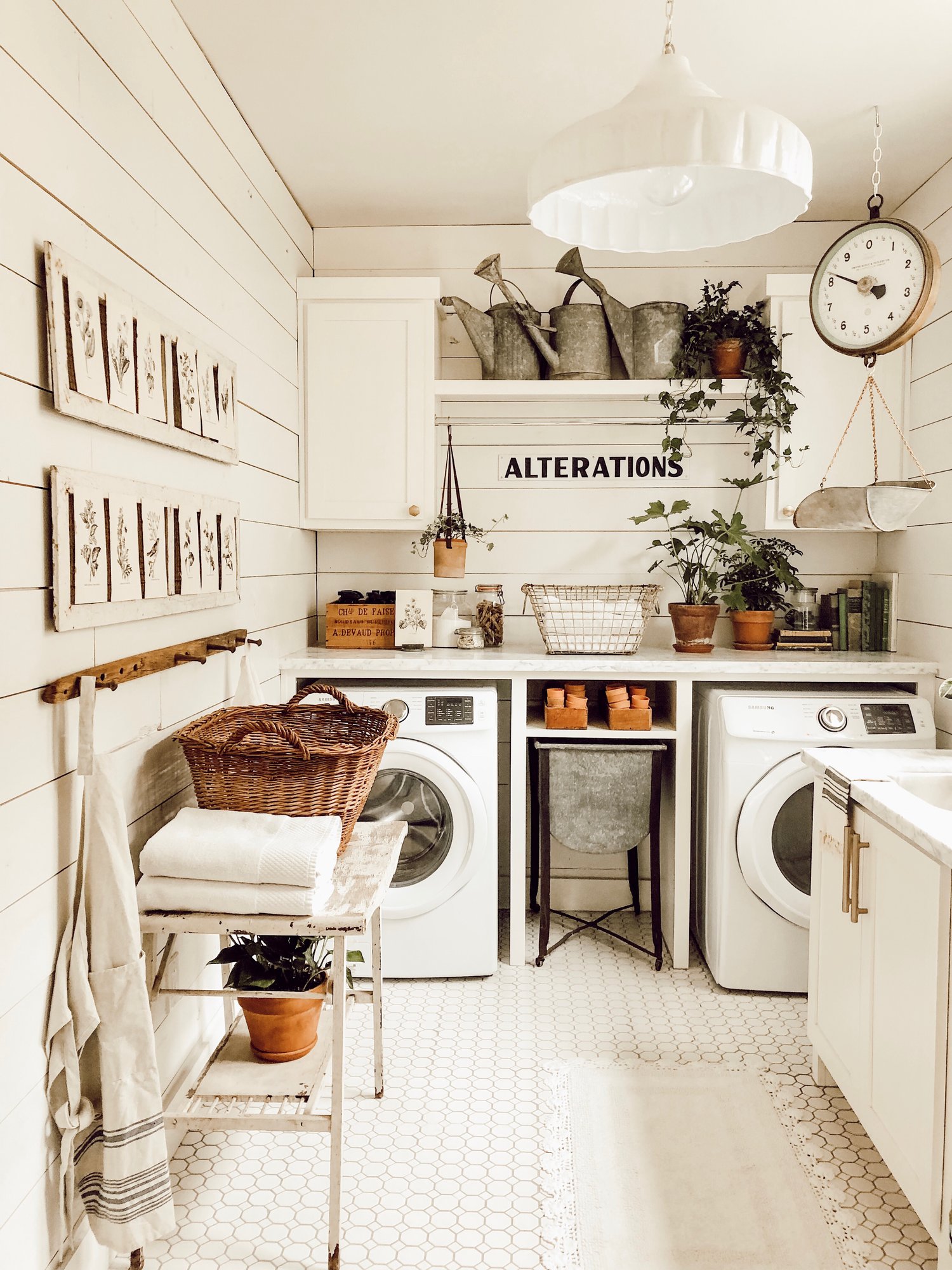 Farmhouse laundry relies on the available natural wood elements and white tones.
And it is an interior that you can use your creativity to the maximum extent to decorate since it doesn't call for an extreme match.
Mood: Charming and cozy / Calm
Pairs Well With: Silver faucet / Stainless steel or porcelain sink / Cabinet with neutral and earth tones or white hues
Complementary Color Scheme: White + Pops of Natural Wood / Blue + Gray + Taupe / Black + White
Want a Modern Laundry?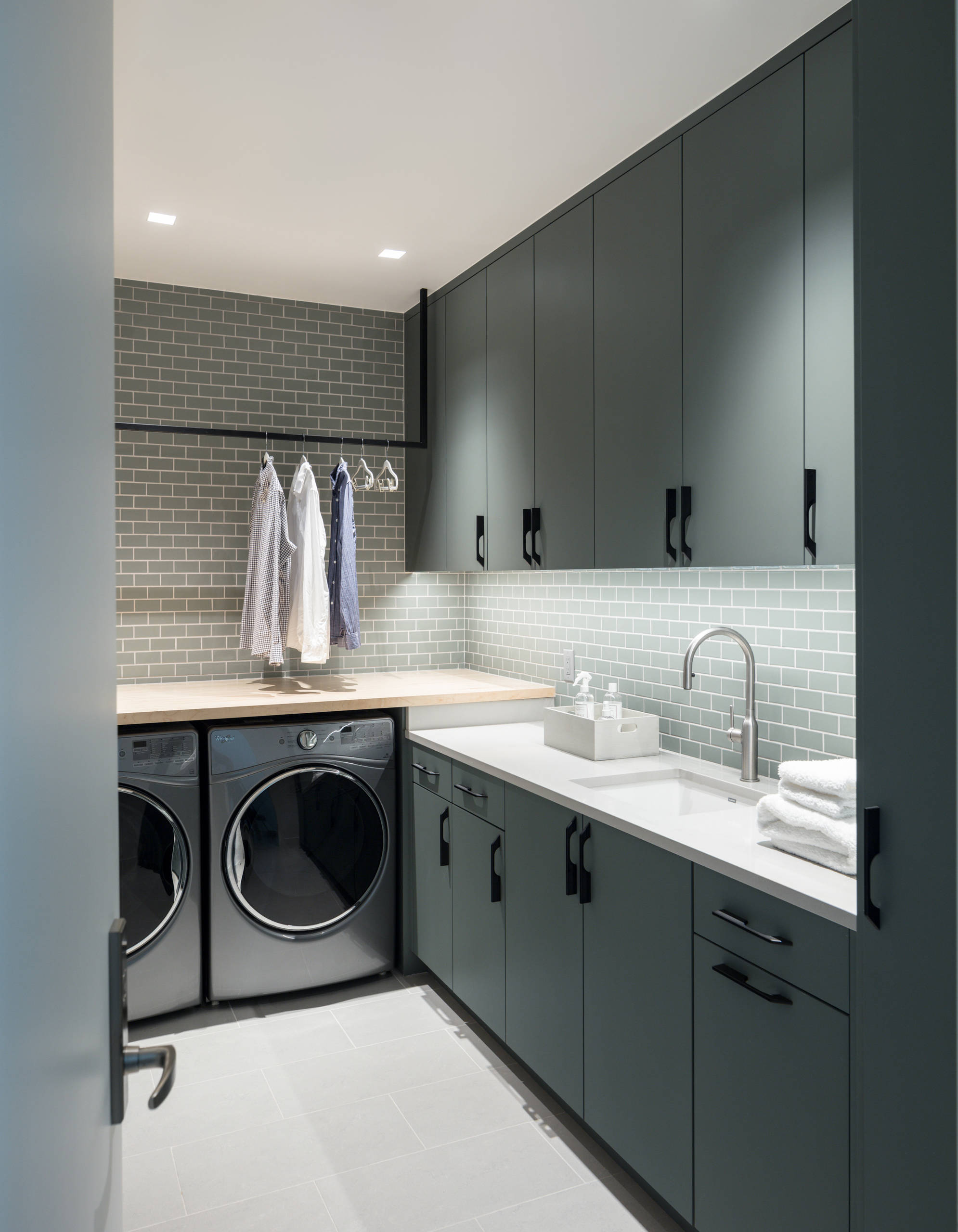 Modern style interior requires in matching all the elements in the laundry in a minimalist way.
A modern laundry is monochromatic, centered around decorative items for function than a showcase.
It emphasizes the bright and clean lines.
Mood: Clean / Cheerful / Welcoming / Energetic /
Pairs Well With: Brass, chrome or metal faucet / Ceramic sink / Single color minimalist cabinet
Complementary Color Scheme: Blue + Beige / Hunter green + Red / Forest Green + Light Gray / Navy blue + White / Pink + Teal / Light Blue + Emerald / Blue + Grass Green / Zen Green + White + Black Neutral colors / Gray + Sand + Blue / Blush Pink + Black Yellow + Gray / Moss Green + Tan + White
Create a Vintage Laundry?
Vintage laundry includes a neutral color palette, carved wood and deep color baskets or curtains.
Traditional laundry always embraces warm colors with gold hues incorporated in luxurious elements like chandeliers, arts and curved cabinet walls.
Mood: Blissful / Peace / Harmonious / Emotional / Ordered
Pairs Well With: Zinc faucet / Ceramic under-mount sink / Wooden cabinet
Complementary Color Scheme: Bold or Saturated Colors, Pale or Soft Colors + Dark Wood Palette
Black and white sink cabinet are timeless decor used in laundry.
If you are not likely to renovate your laundry room or want it to be outdated, it is wise to build a black or white sink cabinet.
Get Guarantee from Top Brands
Finally, decide on which brand laundry sink cabinet cater to your requirements.
The most popular brands in manufacturing freestanding sink cabinets for laundry rooms are Glacier Bay, Transolid and Mustee.
Glacier Bay is a brand expert in manufacturing cabinets. If you are someone who goes for high quality and durability in cabinets, Glacier Bay is your choice. Despite the robust build, it is an elegant addition to your space because of its all white and smooth design.
Transolid has been an eminent brand since 1995, aiming for high-performance but cheap sink cabinets for laundry. Due to their cabinets being 24 inches and less, their all in one laundry cabinet sink is apt for a small washhouse. A compliment is some models features basket strainers to filter out the solids or debris. No worry about the clogged drain any longer!
Mustee is an American brand with a core competency in equipping laundry rooms and basements, chiefly in manufacturing porcelain sinks and bathtubs. Durable and versatile, a Mustee sink is worthwhile to buy if you intend to do a sink makeover.
In Closing
If you want your laundry cabinet and sink to perform more functions, you have to make the basin cabinet near the washing machine as much as possible.
And it is of great benefit to leaving a countertop and a hanging rod above the washing machines, stopping water from dripping and spilling when soaking items.